Long-time Northville Township Police Chief retires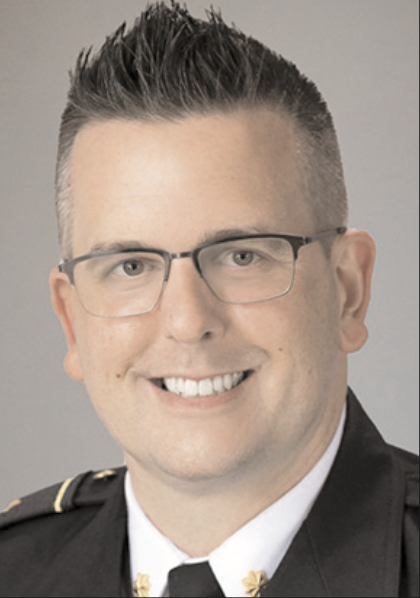 Jan. 2, 2022  PLYMOUTH EAGLE.
Plymouth Michigan News
So long and best wishes to Northville Township Police Chief Tennies.
Northnville Township Police Chief Paul Tennies retired from public service in December after a 19-year career with the Northville Township Police Department.
Township Manager/Director of Public Safety Todd Mutchler made the announcement at a recent meeting of the board of trustees.
Tennies joined the Department in 2002 as a patrol officer, later serving as Field Training Officer and department instructor. His leadership skills were evident then, Mutchler said.
"Throughout his career, he's led a fantastic team of officers to new heights, he's built bridges with community partners and arrested a lot of people, he said. "He is an excellent public servant and an asset to our community. We will miss him greatly."
Tennies professional accomplishments include stints on both the Drug Enforcement Administration Task Force in Detroit and the Michigan State Police Western Wayne Narcotics Task Force as a detective. During that assignment, he was recognized by the Executive Office of the President of the Unites States as the officer in charge of the 2014 National HIDTA Outstanding Marijuana Investigation.
In 2014, he joined the department supervisory team. He was regularly promoted serving as detective bureau supervisor, patrol operations and staff operations commander. One of his key achievements was working with Northville Public Schools to make them safer, enhancing the school emergency response plans, according to a statement from the township.
Tennies also established a partnership with the Michigan State Police Internet Crimes Against Children Task Force.
"Chief Tennies' was instrumental in providing leadership, guidance and support in the development of Northville Public Schools Emergency Operations Plan, implementation of our school safety protocols, and in fostering strong partnerships with our schools and community," said Northville Public Schools Superintendent Mary Kay Gallagher.
"We are a safer, stronger school community as a result of Chief Tennies' leadership and service, and we wish him well in his next endeavor."
During this time, he also served as the department Michigan Law Enforcement Accreditation Commission (MLEAC) accreditation manager, later becoming an assessor. This opportunity had a profound impact on shaping the Northville Township Police Department, officials said. Tennies assessed departments around the state, bringing back best practices from other agencies and incorporated them into the Northville Township Department, creating it into what it is today, they added.
He became chief of police in 2019 where he focused on building more community partnerships. He was instrumental in creating a mental health co- responder program and formed relationships with community advisory groups, including the Conference of Western Wayne and Western Wayne NAACP.
His most recent achievement is leading the agency through the self-assessment and onsite review of the CALEA International Accreditation Advanced Law Enforcement & Communication programs. Northville Township Police
Department was the first agency in Wayne County to obtain state and international accreditation and Tennies managed this accomplishment during the COVID pandemic, which makes honor even more impressive, officials noted.
The CALEA experience led Tennies to his next career where he will be working with a private company to support other law enforcement agencies across the nation undergoing the rigorous accreditation process.
"No career is more fulfilling than public service," Tennies said. "I am looking forward to being able to continue to serve our first responders by assisting police departments across the nation in a new way, while I get to spend more time with my family."
Tennies will work remotely, cutting his commute time and improving his work/life balance.
"In every role, Chief Tennies made an impact on our department and our community," Mutchler said. "Northville Township benefited with such a professional in charge."
Township Supervisor Mark J. Abbo added, "We thank Paul for his past serv- ice, and wish him well on all future endeavors."
"It has been an honor to serve as the Chief of Police," Tennies said. "This office is not about the person who occupies it, but rather the responsibility they have to advocate for our community and the talented men and women who chose to serve here. It has been my privilege to serve an organization of people whose daily focus has been the selfless service of others."
Tennies' last day with the Northville Township Police Department was Dec. 17.
Plymouth Voice.