Board agrees to vacate Central Middle School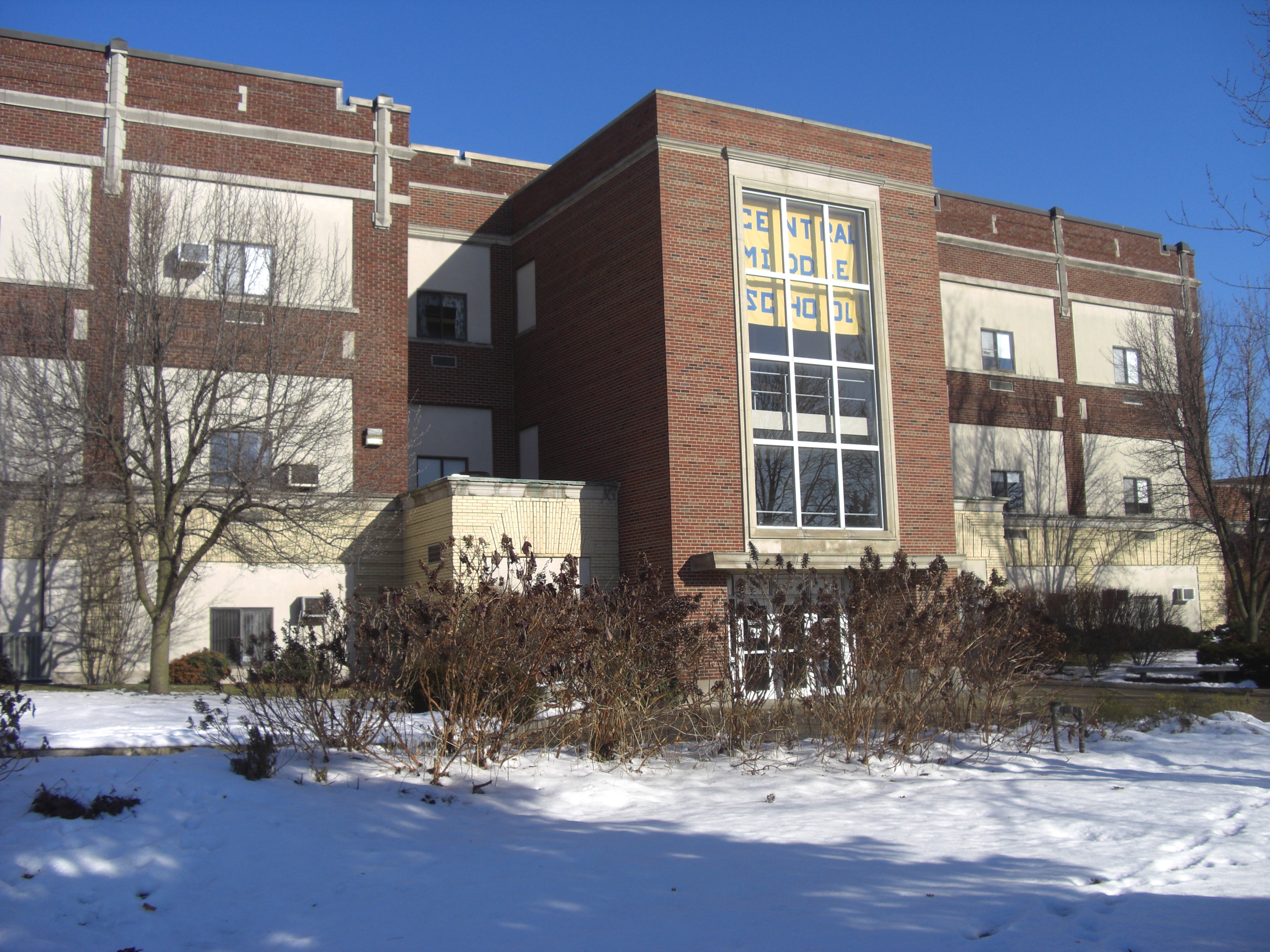 Jan. 9, 2012  PLYMOUTH EAGLE.
(Editor's Note:
Plymouth High School was built in 1917 and was converted to Central Middle School in 1970 when the new Salem High School opened in Plymouth Township. The park in front of Central Middle School was called Central Park in the early 1900s. The construction of the cobblestone wall surrounding the park in 1933 was part of President Herbert Hoover's reconstruction finance program.  The gymnasium, pool and band room addition was built in 1951.
Long time local resident Richard Sharland, like his grandmother and father, started kindergarten at the historic building that served as a grade school, junior high school and high school and attended until his graduation in 1960, a class of 290. Now Sharland's 10-year-old granddaughter is attending the middle school.
The late Carl Pursell, Wayne County Commissioner and U.S. House Representative attended Plymouth High School and graduated in 1951.)
Central Middle School in the heart of downtown Plymouth may soon be closed to students.
Members of the Plymouth- Canton Community Schools Board of Education have agreed unanimously that the school building is no longer viable for classes, particularly since more than half the 850 students at the school are residents of Canton Township.
A recent estimate indicated that required upgrades at the building would cost in excess of $26 million. The upgrades and renovations would also require the transfer of students from the facility to another school building during the estimated two years the construction would require.
Board trustees have informally agreed that a new school building will be necessary, particularly in light of the heavy student population from Canton. Ninety percent of students at Pioneer Middle School reside in Canton and 88 percent of the students at East Middle School in Plymouth Township live in Canton.
Board members addressed the issue at a recent meeting and opted to survey residents in mid- January in an attempt to see if a bond issue would be approved by voters. The survey will be completed by Epic/MRA and include 400 random calls in an effort to gauge community support for a new school building or additions to cur- rent middle schools.
The school district currently owns land at Canton Center Road and Cherry Hill, where a new school could be constructed if funding through a bond issue were approved by voters.
Superintendent of Schools Dr. Jeremy Hughes told board members that he and the administration were not in favor of spending millions of dollars to renovate Central when it still would not offer the opportunities available to students at other schools. He said the only viable options were building a new school or adding onto current buildings.
"Our recommendation is the $26 or $27 million it would take is prohibitive and that left us with two options," Hughes told the board members. "Renovating doesn't really solve the issue of equity and our priority at this time is equity.