Non-profit 'Let's Open Northville' files suit against city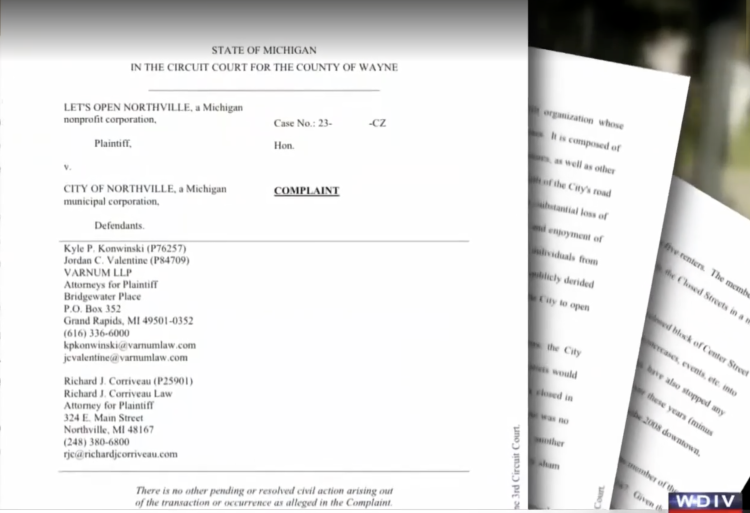 Oct. 25, 2023  PLYMOUTH VOICE.
Plymouth Michigan News
UPDATED
"…City Attorney will defend this matter vigorously."
"City administration has reviewed the lawsuit and is confident that all actions were implemented consistent with policy and law. Further, the City Attorney will defend this matter vigorously."
George Lahanas -Northville City Manager
Don Howard
Staff Writer
After frustrated and angry residents and business owners say they are fed up the street closures, a Northville non-profit, Lets Open Northville, filed a lawsuit on Tuesday, Oct 24 in the Wayne County Circuit Court – asserting the City Commission has overstepped its authority.
Last Summer the Northville City Commissioners voted to permanently close the two most traveled streets of the city; Main and Center Streets.
The idea was to make the downtown area more pedestrian friendly and walkable. The streets had been closed by the commissionersl since June 2020, supposedly, a move to help attract downtown customers to the local merchants' businesses.
Originally a temporary decision was extended each year until the council decided to keep the roads closed to all cars until Nov. 2022.  Since then, resentful Northville residents have continually raised concerns over the closure.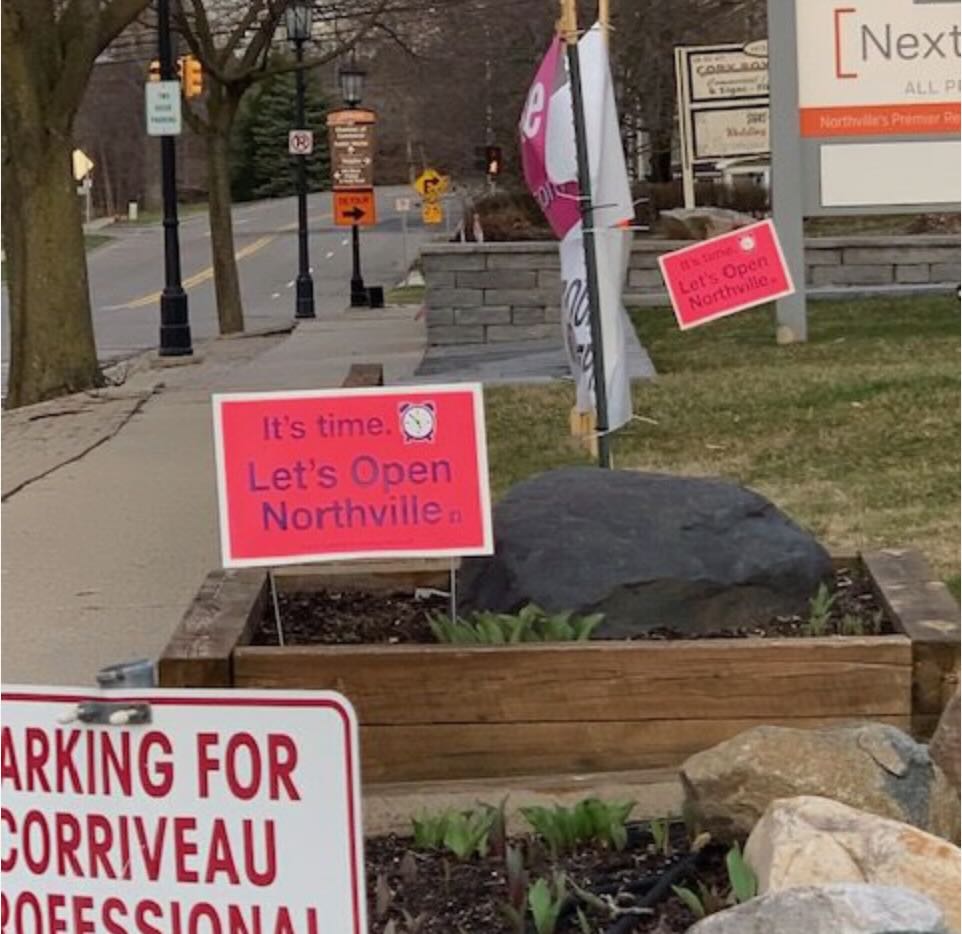 Some creative Northville residents have sought to bring about change by peppering the town with bright pink lawn signs spelling out "Lets Open Northville"
This time it's about how the temporary downtown streets closure that evolved during the pandemic grew into a permanent nightmare for traffic and nearby homeowners. Clever Northville resident Mary Elwart-Keys took credit for investing in the bright pink signage stating, "It's time…Let's Open Northville."
"We are a voice for the voiceless, the disenfranchised by the very people we elected, "Elwart- Keys cried out.
In April, after much debate and a five-hour meeting, commissions caved in and agreed to compromise. More than 500 people signed an online petition to reopen downtown streets and they had just spent big bucks to commission a consulting firm from Plymouth to study the town's traffic patterns for pedestrians – they voted (unanimously) to re-open the streets to vehicle traffic in November each year and close again in May. Six-months open and six-months closed.
The suit has been assigned to Circuit Court Judge, Hon. Charlene M. Elder. The plaintiffs are Richard Corriveau, a local attorney whose offices are on Main Street, and co-plaintiffs' attorneys' Jordan Valentine and Kyle Konwinski.
A status conference is scheduled for 8:00 a.m. Jan.23, 2024.
READ MORE
Northville commissioners cave on street closure after sign campaign
Northville Street Closure to continue through April 2022
Northville bets on consulting aid as they transition downtown to contemporary urbanism
Plymouth Voice.