Father of missing teen makes impassioned plea for help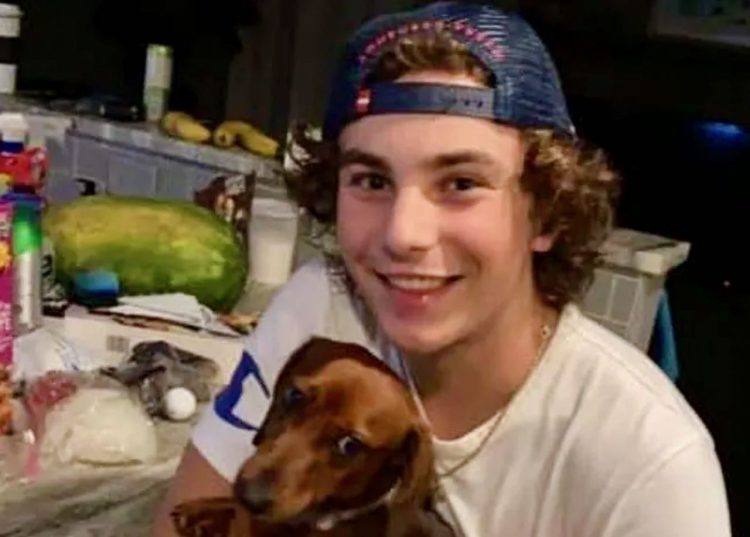 Dec. 19, 2021  PLYMOUTH VOICE.
Plymouth Michigan News
Don Howard
Staff Writer
It's been seven weeks since 18-year-old Branden Santo went missing without a trace. Now, his father, Brad Santo, is desperately pleading for help on social media.
According to authorities and Santo's family he "basically vanished."
The Rochester Hills resident and Grand Valley State University student was last seen October 29 walking on the Michigan State University Campus near Michigan Avenue and Beal Street in East Lansing after visiting friends. It was the night before the Michigan-Michigan State game.
Police report they have located the vehicle where he last parked it and say there is no indication that he left the city. Officials said at the time of Branden's disappearance they did not suspect foul play and do not think Santo would have hurt himself.
A task force made up of members of the Michigan State University Campus Police, East Lansing Police, FBI, Grand Valley State University Police, Ingham County Sheriff's Office, Michigan Attorney General's Office, Michigan State Police and Oakland County Sheriff's Department have conducted searches by foot, drone, helicopter, using K-9 units, boats with sonar equipment and certified divers. In addition, there have been two civilian searches with 800-plus volunteers of the MSU campus.
The investigation continues.
Santo is described as standing 5 feet 10 inches and weighing 160 pounds. He was last seen wearing gray sweatpants, a black T-shirt, a black baseball hat and white Converse high-top shoes. The family is offering $11,000 in reward funds through Crime Stoppers of Michigan for information leading to Branden's return.
A search of the Red Cedar River in East Lansing is set for Sunday, Dec. 19 for paddler volunteers only.
In the words of Brandan Santo's father:
Brendan would not leave on his own accord. He is a good kid with a kind heart and a zest for life. Brendan is an intelligent athletic young man who has many friends and is close with family. He would go out of his way to help someone in need. We need humans like this in the world. The holidays are coming up and we don't not want to spend them without him. We have had so much support from our Facebook page/group members sharing posts and posting flyers everywhere they can think but we need more help.
We are BEGGING for more help.
There has been news coverage but not the exposure Brendan deserves. That may be because this is just mystery with no leads, that there is no spicy back story, that our family is not plastered on the news baring our souls or he's just some boy that went missing. It's sad that sometimes the public seems to need those reasons to pay attention but none of that really matters. The bare facts are BRENDAN IS MISSING, NEEDS TO BE FOUND AND BROUGHT BACK HOME.
Brendan basically vanished.
In the area his phone last "pinged" the campus cameras were not working. It is unfortunate that story seemed to generate more interest than a missing 18-year-old. The campus was PACKED with people all weekend with phones taking pictures and videos. Yet not one person has come forward to say they saw him after midnight on Friday October 29th. In this day and age how can a person just vanish?
Our family's goal since day ONE has been to raise awareness of Brendan's story with the hopes of getting to that ONE person that may have seen something that can help us FIND Brendan. Every family will deal with his situation differently. Our family has not been in the press/media a lot because we feel the focus will be more about us and not enough about Brendan. Truthfully this story should get the coverage is deserves and awareness raised regardless of what interviews we do, how devastated we feel or what our family feels about the investigation. We are but a small group in the theme of things and this is why we are BEGGING for help getting Brendan's story out there for the simple fact that he is MISSING.
***
Anyone with credible information is urged call 844-99-MSUPD, or send an email to tips@police.MSU.edu.
Santo's family has created the Facebook page, Bring Brendan Home. There are currently over 21,000 followers.
https://www.facebook.com/bringbrendanhome
Plymouth Voice.