Early morning fire destroys Plymouth business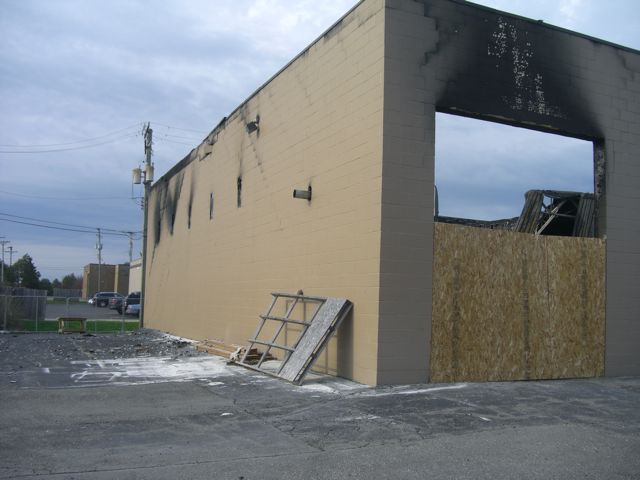 May 7, 2014  PLYMOUTH EAGLE.
Plymouth Michigan News
An early-morning fire in a Plymouth township industrial complex last Saturday severely damaged an electric company and a large sailboat being hand-built in another section of the building.
According to fire department reports, the fire was reported at about 2:48 a.m. by another occupant of the industrial complex, located off Beck Road near M-14, in Plymouth Township. Firefighters responded to 15000 Cleat St., a building occupied by New Electric, an Oakville, Ontario-based electrical contractor that employs 35 people. Firefighters said that upon arrival, the fire was through the roof of the cement block building and there was serious damage to the interior and exterior of the structure. Plymouth Township firefighters called for Mutual Aid from Northville Township and Canton Township as they had no ladder or tower truck to use in fighting the blaze.
According to Northville Township Fire Chief Rick Marinucci, his department responded to a 2:56 a.m. call for help with the township aerial ladder truck and five men. Northville Township firefighters were at the scene for almost four hours, Marinucci said. He said that Northville Township also sent a command officer to the scene and a fire engine truck.
Mutual aid was also rendered by City of Northville firefighters stationed in the City of Plymouth. A tower truck from the City of Northville Plymouth Station was also dispatched to the scene of the blaze. Currently, the Plymouth Township engine and pumper trucks are set up for residential fires, according to firefighters.
Plymouth Township Fire Chief Mark Wendel said there were 21 firefighters at the scene and that six of them were on site for more than seven hours. He said firefighters returned to the building on Saturday after- noon to clear "hot spots."
"I'm thankful to Northville Township, Canton and Plymouth City for their support. It's good we can work together," Wendel said.
A firefighter from Plymouth Township suffered an injured knee at the scene but was treated and released and is not expected to lose any work time due to the injury, according to reports of the blaze.
A large wooden sailboat, being built by hand in the sub-leased rear section of the building was completely destroyed, firefighters said. The boat is so large at 43 feet, plans were to remove the back wall of the building to move it out when it was complete. The boat had been under construction for about five years, according to neighbors in the complex.
Scott Clode, the general manager of New Electric said he received a call from the fire department at about 4:30 a.m. Saturday notifying him of the fire. He said he still had no idea as to the cause of the blaze.
"We plan to rebuild as soon as possible. We're getting with the insurance company now and will reopen," Clode said.
The building section occupied by New Electric contained six company vehicles and electrical equipment and supplies, according to Clode.
Plymouth Voice