Northville celebrates prison demolition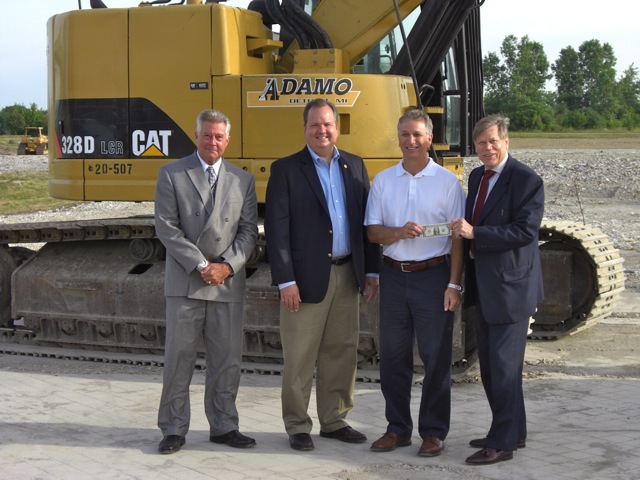 Northville Township Manager Chip Snider, State Rep. Kurt Heise, John Adamo Jr., CEO Adamo Group with Township Supervisor Robert Nix at Scott Prison demolition.
Aug. 14, 2013  PLYMOUTH EAGLE.
Northville Township Supervisor Robert Nix, Township Manager Chip Snider and State Rep. Kurt Heise were all smiles Monday as they as they talked about the recently completed demolition of the Robert Scott Correctional Facility on Five Mile Road, while pushing brooms, shaking hands and posing for pictures at the site of the old women's prison.
The Michigan Department of Corrections closed Scott prison in May 2009 and transferred the all- female prisoner population to the Women's Huron Valley Correctional Facility in Ypsilanti, citing a potential $36 million per year savings. At one time the sprawling 56-acre site, open since 1991 at Five Mile and Beck roads, was home to 880 inmates. Annual maintenance and security were said to cost the state $100,000.
For many years residents and business owners looked at the abandoned property as an eyesore and negative aspect of the community. High weeds, ugly barb wire fencing and a vacant guard tower stood as daily reminders of the structure that was formerly at the site.
Then in 2012, Northville Township officials worked out a transaction in cooperation with the state and with help from Heise, were able to acquire the property for a final cost of $1.
"With all the prisons, we've been an institutional dumping ground for years," Snider said.
After the acquisition, Snider and Nix conducted a competitive bid inquiry into the cost of demolition and eventually negotiated an
innovative contract for the work. Township Engineer Tom Casari along with Adamo Group, Inc., a Detroit company and long-time industry leader in demolition, negotiated a plan that allowed the township to pay Adamo $1 in exchange for the salvage value from the demolition.
Demolition at the site was a complex plan which included engineering concerns, hazardous waste removal, asbestos abatement and utility removal along with excavation and grading, offcials said. Snider estimates the final cost would have been about $475,000 and the salvage would have returned $200,000 to the town- ship.
"The end result was good deal for all and Adamo finished the project ahead of schedule." he said.
Nix said there are numerous possibilities for development along the Five Mile corridor, like a corporation campus for research, technology and business uses.
"It's a gateway. It's the last remaining gateway to the township."
The entire Northville Township Board of Trustees participated in the ceremony early Monday morning at the site, marking the end of the demolition and the availability of the property for development.
|News Plymouth Michigan