There's finally something to protest about in Plymouth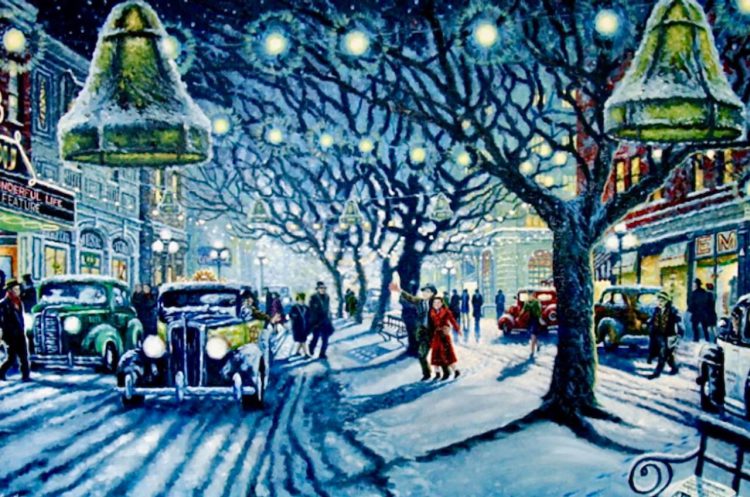 Oct. 28, 2022  PLYMOUTH VOICE.
Plymouth Michigan News
Don Howard
Staff Writer
There's finally something to protest about in Plymouth and It's not about politics, woke ideology, schools, radical preferences or even parking spaces.
It's about nostalgia.
It's about Americanism built on hometown values. The allegiance to tradition and the wistful desire to return to a former time in one's life.
It's about one of Plymouth's gems – The Penn Theatre.
It appears this year the 81-year-old big screen theater will not be allowed to show the sentimental Christmas movie, "It's a Wonderful Life."
A huge crowd of people showed up last night in downtown Plymouth to rally and show their love for the beautifully restored Penn – a true relic of a bygone era, and the moratorium on the annual tradition of screening the holiday movie.
The adoring fans were hoping to convince Paramount Pictures to allow the theater to screen the film which the they have been doing every holiday season for the last 15 years, except one during the pandemic.  Although the movie is available on VHS, DVD, with 40th and the 50th-anniversary editions circulating, Paramount has now granted exclusive licensing to the film and put a moratorium in place that prohibits the theater from showing it.
The old theater located on Penniman Ave. is situated in the heart of city facing Kellogg Park with its quaint business district built upon a town square the big screen movie house and marquee still looks the same as the day it opened in 1941.
Plymouth is the town in which everyone wishes they had grown up. Plymouth is the place where there are people in Kellogg Park in the center of town at all hours. Plymouth is the town where neighbors still know each other and freely share aspects of their lives at nearly every phase of adulthood, whether raising children, tending grandchildren or coping with the issues of aging.
In many ways Christmas time in Plymouth looks a lot like the town of Bedford Falls, depicted in the Frank Capra classic, staring James Stewart and Donna Reed, with its quaint downtown built upon a town square.
Over the years the theater entertained generation after generation until suddenly the doors closed in 2003. The theater remained shut through 2004 with its fate uncertain. In 2005 a group of Plymouth businessmen saved the Penn from the wrecking ball by purchasing the shuttered building.
Plymouth is considered to be one of the most desirable places to live in the Midwest.
Plymouth Voice.