Over-hyped snow storm-nobody's complaining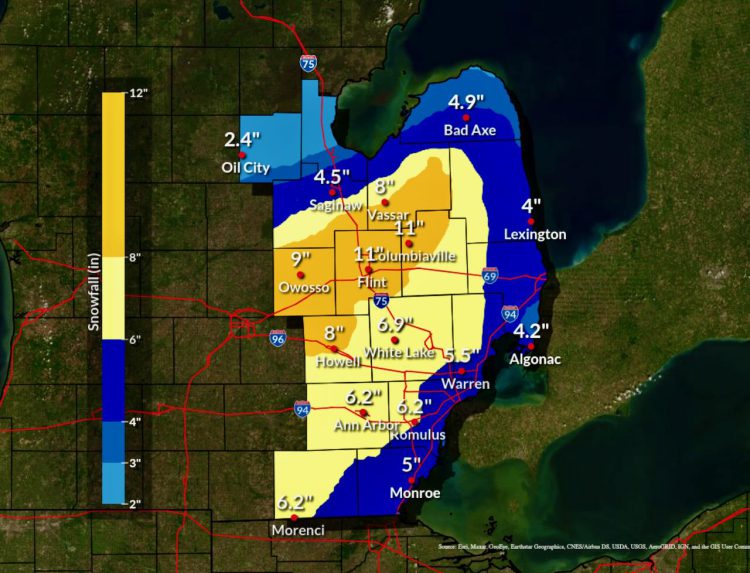 Feb. 3, 2022  PLYMOUTH VOICE.
Plymouth Michigan News
It appears local meteorologists have over-hyped the snow storm that is now on its last legs in our area, now citing the challenges of coming up with an accurate snow measurement verses rainfall.
There are parts of Michigan that saw upwards of 11 inches of snow in the past 30 hours, slowly transitioning from rain; but not the 12 to 18 inches initially forecast for the metro Detroit area. However, the fact that the storm system had a lot of moisture, 0.67 inches, considered quite high for early February, we will forgive any misrepresentations.
Television forecasters and on-line prognosticators love to play out their predictions for pending weather events, especially snow storms as they chart out the measurable snow numbers often aimed at outdoing other stations-even when the slightest amount of snow is forecast.
Winter storm predictions when there's a storm watch or warning often turn to news headlines on the never ending 4-5-6-10-11:00 news telecasts with helpful warnings for people to gas up, stock up on food and water and heed their snow driving lessons-slow down, pump your brakes, don't use cruise control-watch for black ice, ad Infinitum. We think some advice is good, but many times the weatherman is not the best source for winter driving tips.
According to our respected weather source, the National Weather Service, some areas of Southeast Michigan only saw 2-3 inches of snow, whereas portions of the Flint received close to a foot of snow,
So, let's give the weather guys and gals an "A" for effort and a "C" for accuracy this time around.
Plymouth Voice.