NWS issues Excessive Heat Warning for Wednesday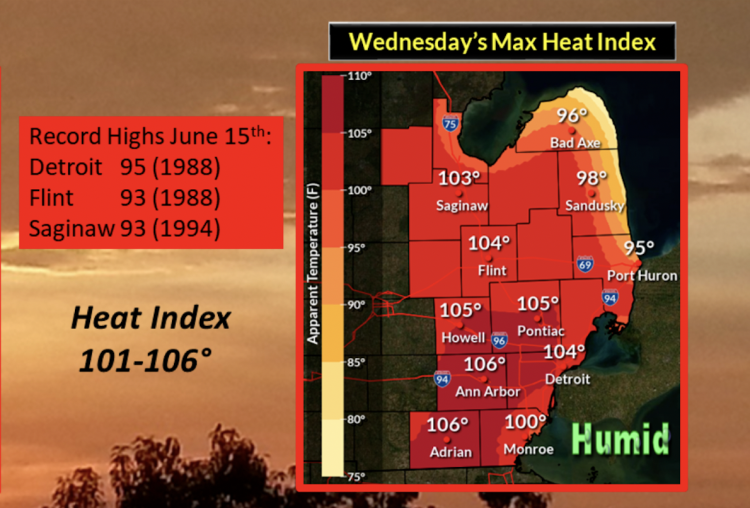 Jun. 13, 2022  PLYMOUTH VOICE.
Plymouth Michigan News
The National Weather Service office in Pontiac has issued a Dangerous Heat Warning for Wednesday, predicting record highs with heat indices climbing to an average of 105 degrees. Temperatures are only lowering into the mid to upper 70s Wednesday night, providing minimal relief.
Weather officials warn that high temperatures that will impact southeast lower Michigan on June 15, will likely break all-time records for heat and heat index.
Heat indices are expected at 101 to 106.
Heat is one of the leading weather-related killers in the U.S, resulting in hundreds of fatalities each year. Dangerous heat related illnesses can occur within a short period of exposure.
Experts say everyone can be vulnerable to heat, but some more so than others. Small children, the elderly, certain other groups including people with chronic diseases, low-income populations, and outdoor workers are particularly vulnerable to high heat.
Check in with friends and relatives who fall in one of these populations, especially if they don't have air conditioning.
It is NEVER safe to leave a toddler, disabled person or pet locked in a car, even in the winter. If you have a toddler in your household, lock your cars, even in your own driveway.  Kids play in cars or wander outside and get into a car and can die in 10 minutes.
Animals can die of heatstroke within 15 minutes. Cracking the windows does not help as the interior still gets dangerously hot. During hot weather keep pets at home. If you see a pet in an unattended vehicle do not leave until the problem has been resolved.
Plymouth Voice.