Northville Library installs signage to help non-verbal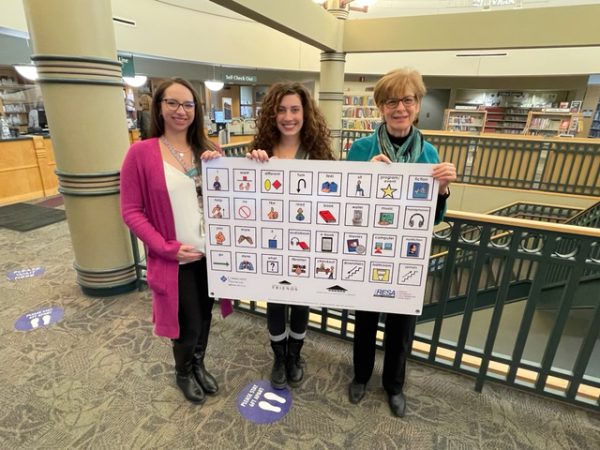 Feb. 3, 2022  PLYMOUTH EAGLE.
Plymouth Michigan News
Signs of the times
Visitors to the Northville District Library will notice some bright new signage in the building, designed specifically to aid visual communication about library services.
The core board installation includes specific vocabulary for a given activity. The boards feature a small collection of words that make up the majority of what is communicated daily in that particular setting. Youth Services Librarian Cathrine Trautman prompted the installation of the boards after being inspired by her niece, who is nonverbal. She collaborated with two local speech pathologists, Susan Oleson and Lia Gargaro, to design the boards. The new signage is another means for the library to include anyone in the community who is neurodivergent and or non-verbal to feel included, she said.
"This is a way to take part in normalizing different modes of communication while being a proactive and positive influence; we hope that the core boards inspire curiosity and conversation for teachable moments, in addition to being a helpful tool," Trautman said.
Handheld core boards will be available at all public service desks with a larger core board installed near the main stairwell.
The library has been committed to creating a more inclusive environment, and has a history of offering a range of formats and resources, which includes large print books, a magnifying machine located on the lower level of the library, audiobooks, ESL and language learning materials, graphic novels, read-alongs and easy readers. The library also offers downloadable eBook services, Libby by Overdrive and Hoopla Digital, with the option to use Open Dyslexic font while reading, library officials said. There is a book collection for readers with dyslexia currently in the planning and the addition of the core boards is meant to provide a voice for any- one to use.
The Friends of the Northville District Library and Community Financial Credit Union contributed to the cost of the boards, library officials explained, For more information, visit Northville District Library: facebook.com/northvillelibrary: northvillelibrary.org, or telephone the library at (248) 349-3020. For questions regarding the development of the Core Vocabulary Boards for NDL, Trautman can be reached directly at: ctrautman@northvillelibrary.org.
Plymouth Voice.