Northville honors 30-year career of safety director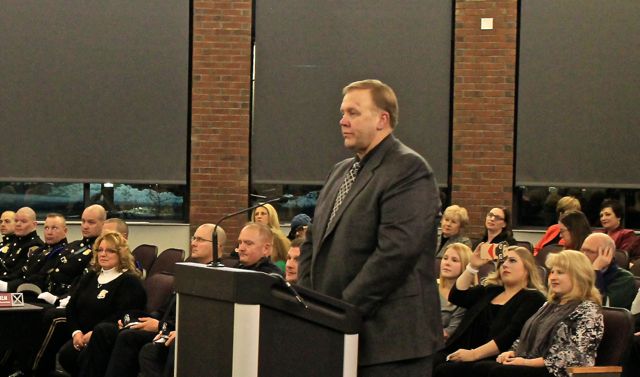 Dec. 30, 2016  PLYMOUTH EAGLE.
Plymouth Michigan News
Fond Farewell
John Werth stood in front of the Northville Township Board of Trustees one final time and took a short breath.
He had just finished extolling the virtues of a police department that is celebrating its 50th anniversary, having evolved from a one-person staff to one of the most highly regarded agencies in the State of Michigan. There was just one more thing to do.
"Mr. Manager," he said, his voice breaking with emotion, "my tour is done."
With that, he made official his retirement from the department that he had served for more than 30 years, first as a patrolman, then a sergeant, chief of police and finally director of public safety. Both departments have evolved as the township itself has changed since Werth started May 31, 1985, and are well-poised to meet the challenges of the future said Township Manager Chip Snider. Snider, the former township police chief and director of public safety, promoted Werth to the chief position and has worked closely with him for nearly two decades.
"His legacy is strong," said Snider. "He's left a tremendous department behind him. We've worked together, we've mourned together, we've suffered together and some of that was difficult-but it was all worth it to get to where we are tonight."
Northville Township was still largely an institutional community when Werth's father, recently retired from the Detroit Police Department, moved the family there in 1978. When Werth joined the police department seven years later, the Northville Psychiatric Hospital was still open and active, the state mental hospital was still in operation and the Robert Scott Correctional Facility was under construction. Those facilities are closed now, awaiting development or already torn down.
Meanwhile, the population in the township nearly doubled. Beginning during his time as police chief in 2001 and public safety director in 2007, Werth helped raise the bar in both departments, pushing education and training and bringing Advanced Life Support to the community. When he was elected president of the Michigan Association of Chiefs of Police (MACP) last year, he pushed for the adoption of standards that would make the township department an accredited agency. It is now in line to become the first department in Michigan to be accredited through the MACP standards for the accreditation of police departments-standards which he helped adapt based on a similar program from New Jersey.
Not bad, considering he almost went into hotel and restaurant management.
"I wasn't interested in going into law enforcement when I went to college," he said. He did earn a criminal justice minor, though, and after graduating from the police academy at Jackson College, took a chance and applied in Northville Township.
"Look what happened," he said. "It's been a good choice."
Werth said he gives credit to the board of trustees, which has always supported the police and fire departments through the years, for their assistance in growing the departments into well-respected agencies. He counts among his best accomplishments the fact that Northville has a highly-educated public safety department that will soon be an accredited agency.
"You always want to leave something better than when you started," he said. "This is one of the finest public safety agencies you'll ever see and I am very proud of it."
The meeting last Thursday also served to hand the torch to Werth's successor, Todd Mutchler. Mutchler joined the department earlier this year as deputy director of police services, after a long and distinguished career with Canton Township.
"I guarantee he will guide this department well into the future," said Werth of the former director of public safety in Canton. "We got the right person at the right time."
Photo by Shaun J. Nicoloff
Plymouth Voice.