Lake Pointe is continued target for wheel – tire theft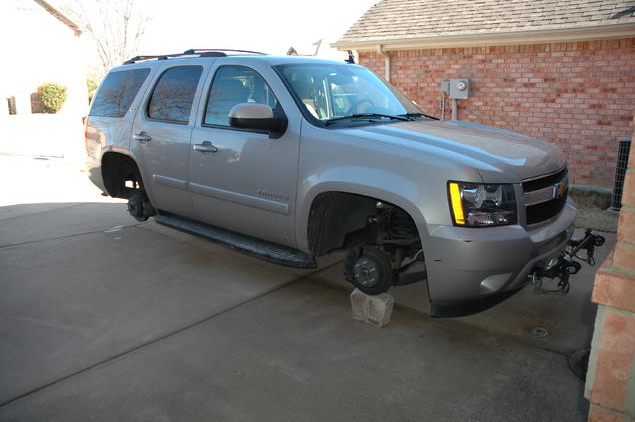 Sep. 10, 2015  PLYMOUTH VOICE.
Plymouth Michigan News
Frustration and disappointment are the feelings of Lake Pointe residents, the latest victims of a professional theft ring, once-again operating in Plymouth Township's largest and most populated subdivision.
Working in the night they're stealing wheels and tires in the victim's driveway. The professionals, armed with tools, tire jacks and possibly master wheel-lock keys; silently remove the rims and tires, often in well-lighted areas.
The team first proceeds to take patio blocks from nearby homes to prop up the vehicles and then works quickly to remove the tire-wheel set, all without making a sound.
"We have dogs that did not hear a thing. It is extremely frustrating." Said one resident whose 4 wheels and tires were stolen early Monday morning in the area of Greenbriar and Farmbrook Street.
"The police are doubtful that the thieves will be caught … they have perfected their crime…they work efficiently like a pit crew at a raceway." one vehicle owner was quoted as saying.
There was a recent report of attempted wheel-tire theft at the intersection of Brentwood and Robinwood Street when the homeowner left in the morning the center wheel-cap of his 2015 Chevrolet Tahoe rolled off in the street.
The Lake Pointe Homeowners Association is urging resident to be on the lookout and immediately report any unusual activity to the Plymouth Township Police.
Call the Plymouth Township Police at (734) 354-3273, or contact Lt. Lauria at (248) 808-5844.
Read about similar incidents in Plymouth Township Lake Pointe:
2013: https://plymouthvoice.com/vehicle-thefts-in-township-leave-residents-and-neighbors-uneasy/
2014: https://plymouthvoice.com/vehicle-thefts-continue-in-lake-pointe/
May 2015: https://plymouthvoice.com/township-police-warn-residents-of-wheel-tire-theft/
Plymouth Voice.