Five new flashing LED beacons to light-up Plymouth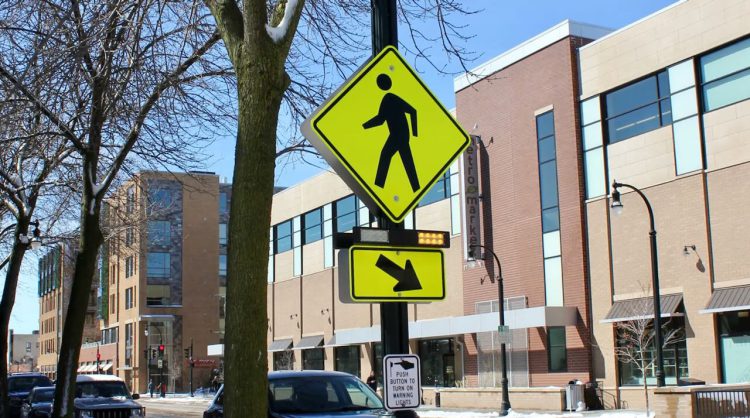 Jan. 9, 2022  PLYMOUTH VOICE.
Plymouth Michigan News
UPDATED/CORRECTED
Several pedestrian crossings in Plymouth will be safer this year after installation of new flashing LED crosswalk system lights.
Plymouth City Commission members authorized the purchase of five LED enhanced Rectangular Rapid Flashing Beacons (RRFB) at their Dec. 20, 2021 meeting, said to improve pedestrian safety and encourage walk-ability.
RRFB light bars are extra-large highly visible rectangular rapid flashing beacons that give warnings to drivers approaching crosswalks. The lights provide real-time warnings when pedestrians are in or about to enter an approaching crosswalk. They are often used in school zones, mid-walk crossings and busy intersections. Traffic safety statistics show driver yield rates increase by as much as 90 percent at intersections and crosswalks with RRFB lights.
Similar RRFB LED lights and crosswalks that operate by pedestrian activated push button have been recently installed on Main Street at Hartsough and Lilley Road south of Ann Arbor Trail in front of the new Plymouth Hills Apartments.
The following intersections are scheduled for signage and RRFB installations; Ann Arbor Trail at Evergreen, Penniman at Evergreen, Ann Arbor Trail at Forest, Starkweather at Liberty and the Main Street mid-block crosswalk between Penniman and Ann Arbor Trail.
Plymouth Voice.