What is happening to the civility in our community?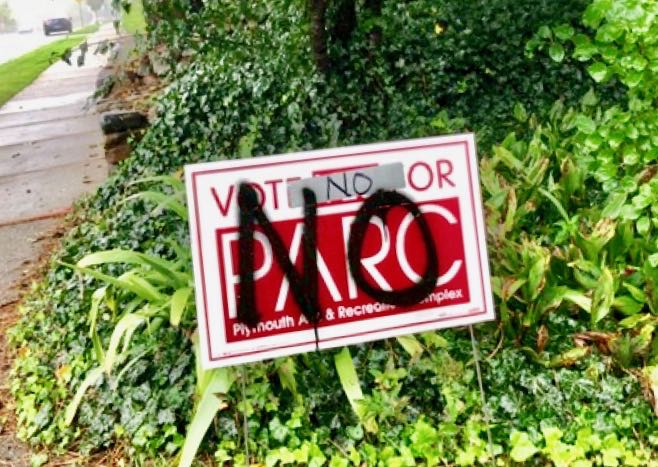 Oct. 7, 2018  PLYMOUTH VOICE.
Plymouth Michigan News
OPINION
Newspaper and magazine journalists play a cultural role. Historians go back hundreds of years and study printed advertisements, photographs and obituaries to try to understand the past. Community newspapers try to tell true stories and provide factual information for readers. It is an honor to have this place in our culture even though many times it is not easy to report without taking a stand or giving a personal opinion.
This is the case with the controversial PARC (Plymouth Arts and Recreation Complex) project, a huge effort headed up by local business people with a demonstrated track record of success. These residents say they love this community as much as we do and want to preserve and re-purpose the historic Plymouth High/Central Middle School into an arts and recreation center and build a new performing arts theater on the property they have acquired in the center of downtown Plymouth.
They've worked on the project for almost 6 years and have made incredible progress in the effort they claim will bring abundant benefits to our community. They promise with successful support they will be able to enrich our local culture by preserving the historically significant building, providing future art and cultural experiences for residents and facilitating new educational programs. They have a vision to improve the existing facility with functional and aesthetic improvements they say will last 100 years. The cost is high and the risks are huge.
Currently, there is a capital funding campaign under way with charitable donations from sponsors, foundations and companies and the issue of local tax support from residents will appear on the upcoming Nov. 6 ballot, allowing the people to decide whether they want to fund the effort.
There is also another local group of individuals working diligently to quash the efforts of the PARC supporters and ensure the issue fails with the electorate. Known as "Plymouth Voters for Responsible Government," the group at one time had a website titled Say NO to PARC. Tom Parrelly is listed as treasurer and their listed address is a Plymouth Post Office Box.
The group has undertaken an organized effort to place their negative NO PARC lawn signs around town, protest at board meetings and question the practicality and virtues of the PARC program. We're told their Facebook page features NO PARK and NO tax hikes-Vote Nov 6 signs.
We found the group leadership is made up of several politically-motivated operatives and former township officials who were soundly defeated by voters in the last election. These disgruntled individuals have bantered negative and untrue facts about the PARC program at every opportunity in some misguided effort, we surmise, to regain some of the influence and prestige they lost when voters ousted them from office.
Last March upset residents jammed Township Hall claiming to have received recorded calls, which stated that township officials had a "diabolical plan to merge the township and city into one Plymouth." The robocall, recorded by the reedy voice of a mature-sounding woman, claimed that the township would cede all local control to the city to "run as they see fit" while township residents "would pay for it. "  The caller stated at the end of the message that it was paid for by Say No to PARC, although no registration of any such political group could be located at that time.  All those claims are false and have no basis in fact.
Recently, upset city residents reported that their Support PARC lawn signs, and even one on the lawn of a church, were defaced with spray paint.  The word NO was sprayed in black paint on the signs. This, to us, is another example of the immature, spiteful and mean-spirited effort of the anti-PARC supporters. Are these anti-PARC people so worried about failure they have resorted to this childish behavior?
We understand there are legitimate concerns about traffic and parking with the PARC proposal which have been voiced in public forums and meetings. And, we know there are a lot of folks who simply don't want to spend the additional tax money that will be required to fund the project.  We absolutely respect their opinions and understand their viewpoint.
What we do not respect, and find repugnant and disgusting, is the defacement of the signs and the arrogance demonstrated in the vandalism of the pro-PARC signs. This tactic discredits any legitimate opinion the anti-PARC people are attempting to express and borders on illegal.
These actions should be disavowed and discouraged by the anti-PARC leaders. Unless, of course, these deplorable acts are, as we suspect, a clear representation of their character, credibility and true motives. While we work to remain impartial on issues, this conduct prompts our anger and disgust as we suspect it will for most residents, no matter which side they are on.
Plymouth Voice.