Explosion-Fire at Sub Station rocks Old Village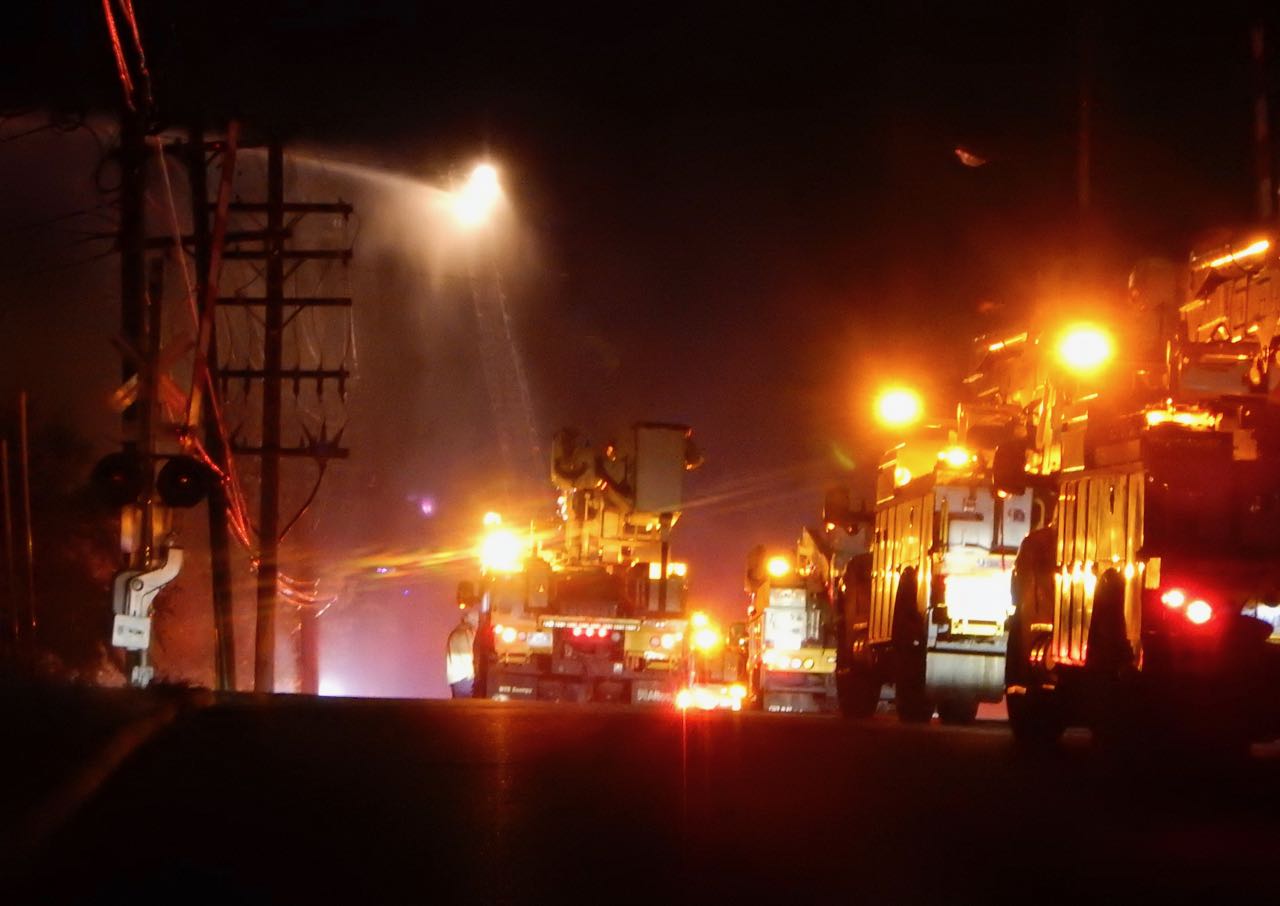 DTE and fire apparatus sit on Farmer St. as firefighters using aerial ladder truck fight the flames from above.
Aug. 16, 2017  PLYMOUTH EAGLE.
Plymouth Michigan News
UPDATED: Aug. 17  8:30 a.m.
Township Supervisor Kurt Heise says last night's explosion and fire in Plymouth is not related to the recent outages in the western part of the township.
"As of 7:45 a.m. the power station explosion has resulted in outages confined to the City, according to DTE. As of this morning, DTE crews are at the scene, installing temporary generators. DTE will not be pulling power from Plymouth Township for the City. This incident is not related to recent outages in the Township. DTE will keep us updated."
Prepared statement from Plymouth City Manager's Office at 6:41 a.m. Thursday Aug. 17:
Crews from DTE Energy are still on site of a Power Sub-Station Fire that occurred last night.  Power is still out in most of the City of Plymouth. DTE Energy Crews have mobilized a portable Power Sub-Station and it is now on site.  It will take several hours to hook the temporary unit up before they can begin to slowly restore power.   For information on when power will be restored; businesses and residents should call DTE Energy at 1-800-477-4747.  
Theodore Street is closed to traffic as DTE Energy Crews have equipment located in the street and crews are working next to the power sub-station.  DTE Energy expects to have some power restored later this morning.  
Drivers should use caution in the City of Plymouth as some traffic signals are not working and the intersections should be treated as a Four Way Stop.  
City Hall will be open as normal during normal business hours.
A massive explosion and fire at a DTE Sub Station rocked Plymouth's Old Village Wednesday night leaving an estimated 4000 area residents and businesses in the downtown area without power.
Fire crews from Plymouth, Plymouth Township and Northville Township were dispatched to the scene just before 9:00 p.m. after the explosion ignited the fire in the power grid and old brick structure located next to the Plymouth Cultural Center and south of the CSX railroad at 525 Farmer Street.
Neighborhood residents gathered in the absolute darkness to watch as aerial ladder trucks and firefighters battled the inferno with flames shooting 80-ft. in the sky.
Plymouth City Fire Department had requested mutual aid from the surrounding area departments and the Western Wayne County Fire Department Haz-Mat team.
DTE road crews and heavy trucks arriving on scene in numbers were held at bay and could not get close to the building.
There were no reported injuries at the normally unattended area.
Plymouth Voice.
Photo © Don Howard / Associated Newspapers