Detroit sues Plymouth Township after bungled $600,000 land purchase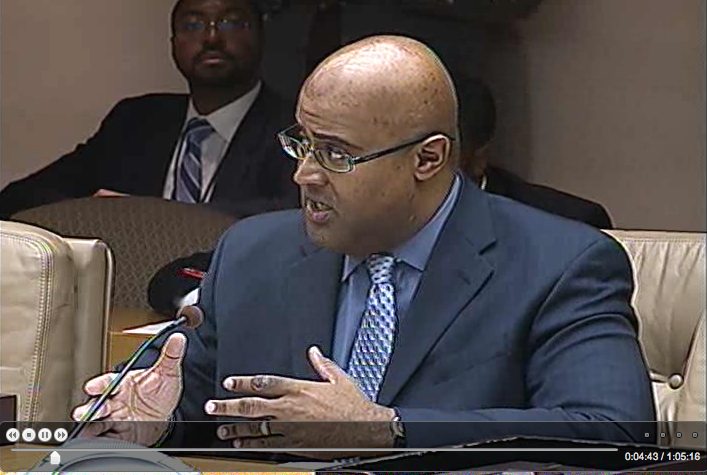 Kenneth Cockrel, Jr., Chairperson, Detroit City Council – Budget, Finance and Audit Standing Committee, reviewing Plymouth's land purchase in 2012.
May 2, 2013  PLYMOUTH VOICE.
Incompetence or willful maneuver; courts will decide outcome
According to court documents, the City of Detroit has filed suit in the Wayne County Circuit Court against Plymouth Township, Wayne County and Wayne County Treasurer Raymond Wojtowicz regarding the purchase of 323 acres of land that once was the Detroit House of Corrections prison farm, located on Five Mile Road, south of Ridge Road.
The suit was filed April 5 and amended April 18. Detroit contends that, following the 2006 sale of 133 acres on the easternmost part of the 323-acre site, to Demco 54 LLC, a property transfer affidavit was filed and a property split approved that should have indicated Detroit had kept the remaining 190 acres. It states that state law, and specifically the State Tax Commission, forbid the foreclosure of property owned by a city.
It also states, "For reasons not entirely clear, Demco 54 was listed as the taxpayer for the entire parcel as if it had not been split, and Detroit did not receive any notices related to the 2011 foreclosure for nonpayment of taxes."
The City of Detroit, filed an affidavit with the Wayne County Registrar of Deeds in January, in the first step to reclaim 190 acres of the property, which was erroneously included in the sale of land to the township due to some mistakes in the township assessor's office. Richard Reaume, Plymouth Township supervisor, is by law the chief assessing officer for the municipality.
The township was left with 133 acres of land, about 77 of which is in a flood plain or is a declared wetland, for which officials spent $606,000. The two parcels were on the tax rolls at one time for $16 million. State law allows the true owner, in cases of an erroneous sale or transfer, to reclaim the land and/or seek monetary damages to the full assesses property value.
A recent media report about the lawsuit stated Detroit filed also filed a suit in the Michigan Court of Claims against the county and Wojtowitz in March seeking monetary damages for the mishandling of the foreclosure. The report said Reaume would not comment on the specifics of the case because a lot of the information has already been reported "… in the paper before," Obviously a reference to The Eagle news which had published numerous stories about the property and the expected legal action by Detroit.
|News Plymouth Michigan