New 'Ridge 5 Corporate Park' open in Plymouth Township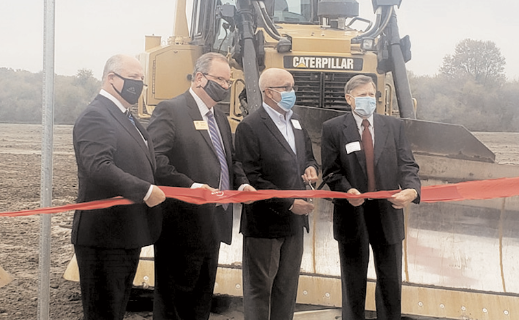 Nov. 10, 2020  PLYMOUTH VOICE.
Plymouth Michigan News
Local and county officials gathered at the former site of the Detroit House of Corrections prison, (DeHoCo) last week for the official opening of the new Ridge 5 Corporate Park in Plymouth Township..
The 60-acre Michigan International Technology Center, (MITC) celebrated the completion of the critical infrastructure at Ridge 5 Corporate Park in Plymouth Township. The project is being prepared for high-tech and research and development companies as part of a development collaborative.
The park, a 60-acre industrial subdivision within 800 acres, is developed and managed by Hillside Investments. Located at the southwest corner of Ridge Road and Five Mile Road, the project has nine custom, build-to-suit lots designed to house international high-tech, light industrial, and research and development corporations. Total capital investment for the project is estimated at $100 million. Construction began in 2019 and is expected to be complete by 2026. Ridge 5 can support buildings from 20,000-250,000 square feet and is close to many of the region's technology companies. It is bordered by the Johnson Creek as well as woodlands and wetlands.
"Members of the Ridge 5 community will find themselves in a serene set- ting with beautiful views in all directions," said Jaimey Roth, principal of Hillside.
Wayne County Executive Warren C. Evans was among the speakers helping to open the development along with Plymouth Township Supervisor Kurt Heise; Northville Township Supervisor Robert Nix and Roth.
The land was once part of the prison farm at the Detroit House of Corrections from the 1920s through the 1980s. It later became a state correctional facility but closed permanently in 2004. It was redeveloped into the MITC in 2017.
Plymouth Voice.