Concours d'Elegance is back – save the date!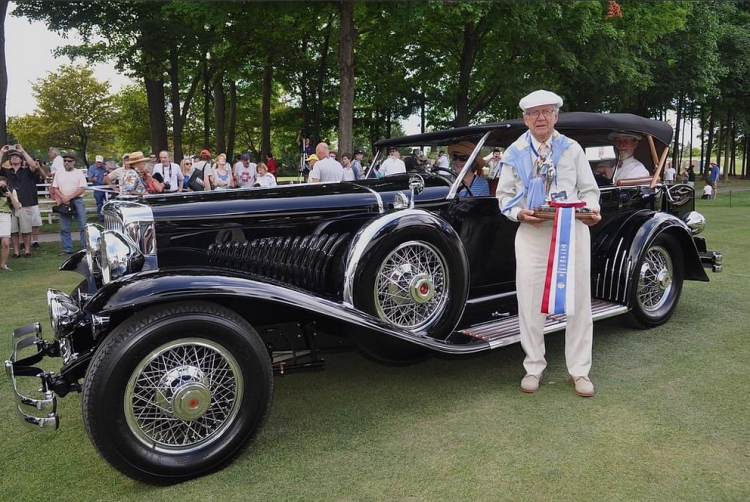 Jan. 9, 2021  PLYMOUTH VOICE.
Plymouth Michigan News
There is one special day each year when the manicured lawn at the Inn at St. John's is transformed from a venue where golf is the main entertainment to one where automotive style and beauty of line are the main attraction. This year that day will be Sunday, July 25, as the Plymouth community plans to once again host the famed world – class auto show-the 42nd Annual Concours d'Elegance of America.
Plans for the grandiose show are now underway. Last year the ConcourUSA Board of Directors made the decision to postpone due to Covid-19 pandemic concerns. This years event is scheduled for three days, July 23-25, 2021, and is estimated to attract 10,000 attendees and car aficionados.
The Concours is one of the most prestigious automotive displays in the world and has the most diverse field unrivaled by any other Concours.
The Concours will showcase over 300 significant classic and historically relevant vehicles and motorcycles, ranging from the Gas Light era to Modern Collectables to Super Cars. Exhibition at the Concours is by invitation only and the vehicles are carefully juried by experts before the coveted invitations are issued to owners around the world.
The historic St. Johns Seminary opened it's doors in the 1940's. In 1998 marked an $11 million redevelopment of the seminary's main buildings into a comprehensive center for corporate and social conferences, weddings and celebrations. Upon completion of the restoration process the owners at the Archdiocese of Detroit held the Grand Opening of what is now called St. John's Golf & Conference Center. The hotel and restaurant addition was added in 2006.
According to promoters, the event will have something for everyone-and children under 12 will have free admission. Arrangements are set for public parking at Canton High School, with shuttle service to the Inn. Parking will be free with the advance purchase of general admission tickets before July 21. Gate admission for Sunday, July 25 will be $45.