Citizens group questions costs of pavilion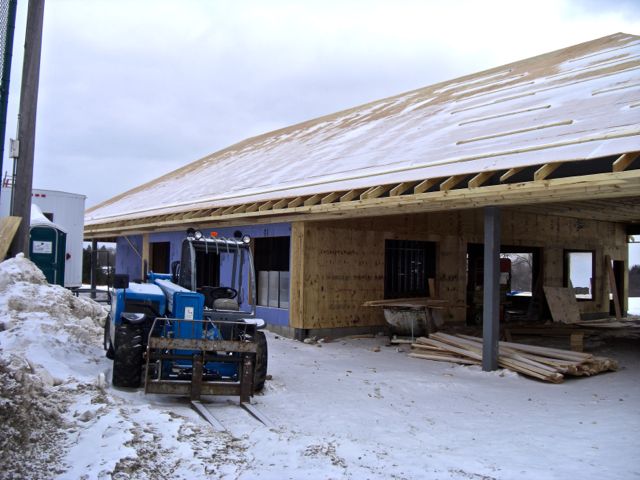 Costs have skyrocketed on Plymouth Township's huge 4,500 square foot pavilion and warming station under construction at McClumpha Park.
Feb. 27, 2015  PLYMOUTH EAGLE.
Plymouth Michigan News
Don Howard
Staff Writer
A watchdog citizens group in Plymouth Township claims construction costs for a new pavilion and warming station under construction in the township park have markedly increased, as many residents and officials predicted when the project was originally proposed.
Plymouth Concerned Citizens Newsletter, an on-line publication, recently reported cost figures for the new pavilion being built by Acme Enterprises, Inc. of Roseville and located near the ball diamonds in McClumpha Park have grown by 750 percent since the Plymouth Township Board of Trustees approved the project.
Their report detailing architectural fees, furnishings and utility lines, shows estimated costs to date for the basic pavilion, restrooms and a drinking fountain, which was initially $85,000, has now ballooned to more than $700,000.
After Plymouth Township Clerk Nancy Conzelman and architect-designer firm D.S. Wright and Associates of Plymouth requested bids for construction in July 2014, the structure grew from a basic picnic pavilion to a sprawling facility.
The pavilion, with the approved revisions, will be a 4,500 square foot, one-story structure with a walk-out basement near the baseball fields, at the top of the sledding hill in the park. It will include restrooms, a warming center and a kitchen area with a sink and refrigerator and $25,000 snow making cannons.
Construction of the pavilion at the park began last fall after approval of the bid to Acme, the second-lowest bidder, by a 5-2 vote. The two dissenting trustees, Bob Doroshewitz and Chuck Curmi, and several members of the audience, questioned the procedures and accounting utilized in the bidding process. Doroshewitz later questioned a reference in building plans to a water connection for a snow-making machine.
"Recreation amenities enhance our community's livability," said Township Supervisor Richard Reaume, in his fall 2014 letter to the community. The 12-page publication highlighted a new $350,000 amphitheater and the all-season pavilion warming station that Doroshewitz predicted could cost nearly $700,000 when complete.
In the months since, hundreds of residents calling for greater accountability and public input into the use the plans for the amphitheater and pavilion have jammed Township Hall board meetings citing public safety as a priority and suggesting trustees concentrate funding in the understaffed fire department which currently does not have a ladder truck and where the 20-year-old fire engines and equipment suffer constant breakdowns.
At one board meeting, township resident and activist Chris Hunter criticized the board and what Curmi described as "value engineering" which occurred between members of the board and Acme representatives after the bids were submitted. Hunter told the board members that he was in favor of "value engineering" but that it should take place "before the bids were finalized, not after?"
Plymouth Township Treasurer Ron Edwards, who's acting as the project manager, said "We're moving ahead. We're getting the place fixed up."
Plymouth Voice.