Welcome Home- Historic Wilcox House to be 2 apartments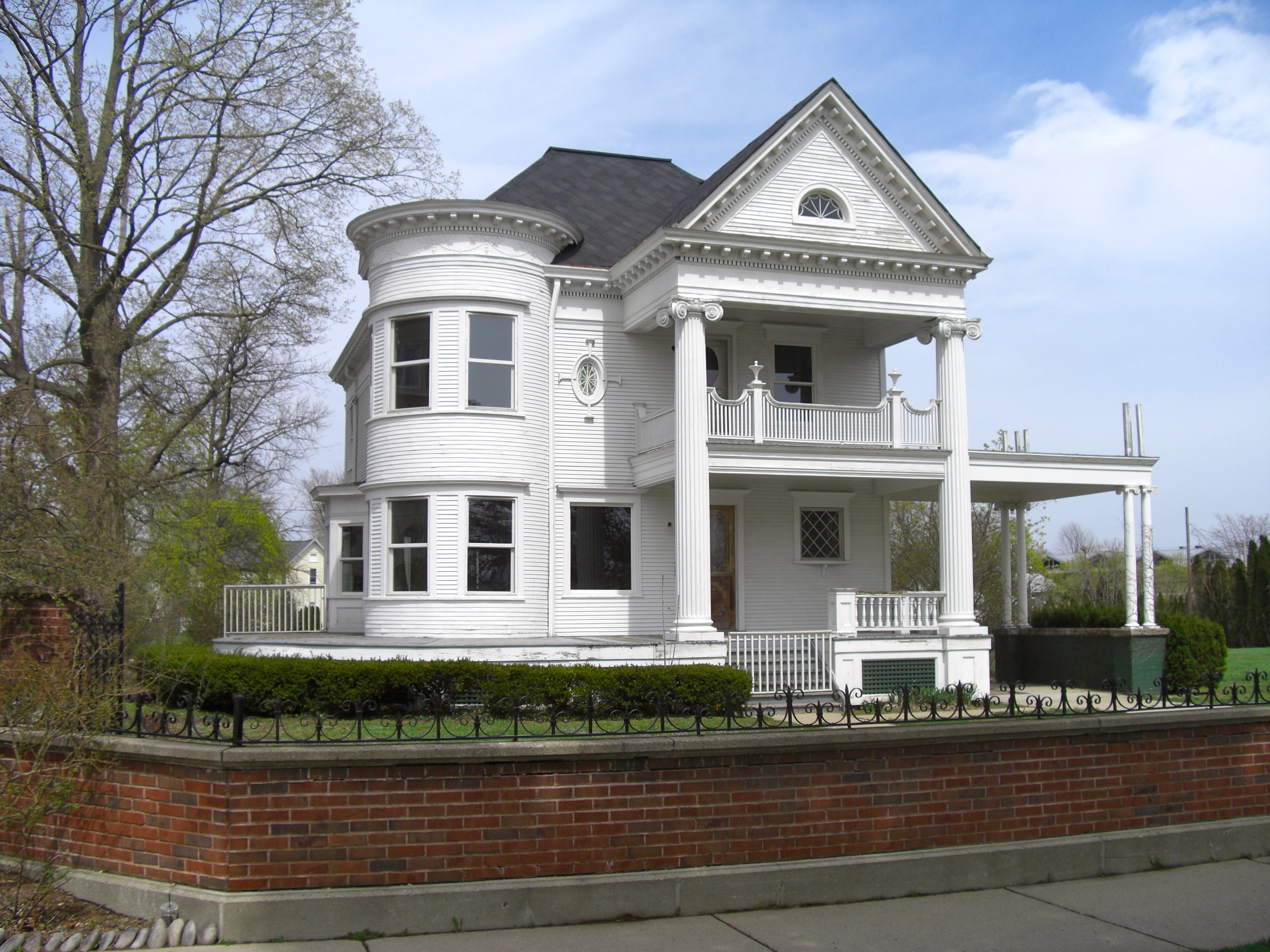 May 29, 2013  PLYMOUTH EAGLE.
The most recognizable piece of real-estate in the City of Plymouth may look a bit shopworn, neglected and rundown now, but that will all change in the next few months.
The Markham House, built in1903 by Daisy Air Rifle Co. pioneer William F. Markham, at the apex of Kellogg Park on the corner of Penniman and Union streets, was once the showplace of Plymouth. The house will be completely remodeled into apartments during the next few months, according contractor to Bill Richardson of Howell.
The house was purchased by George and Harriet Wilcox in 1911 and became known as The Wilcox House. The couple raised their three children in the home, one of whom was Johnston "Jack" Wilcox, the founder of the Wilcox Foundation, which continues to provide funds to benefit the community. Stan Dickson bought the home from Wilcox.
With its elaborate shutters and a grand, wraparound porch, the Queen Anne style home was an example of the finest workmanship of a by-gone era. The 10-foot stained glass window that was originally in the solarium on the first floor was donated to the Plymouth Historical Museum by Wilcox before his death in 2000.
During World War II, the home was converted into five apartments. Today, much of the home has been gutted and most of the original woodwork removed, but plans are in place to preserve the exterior and remodel the interior into two luxury apartments, encompassing all three floors. Dickson has asked the Plymouth Historic District Commission to approve his plans for the exterior of the home, in an effort to preserve the historic importance of the iconic structure.
The three-story home, which sits on 2.5 acres, will be split into two units. The first level unit, about 1,400 square feet, will have two bedrooms, two bathrooms and a sunroom on the east side of the building surrounded by windows.
The second-third level apartment will feature three bedrooms and two bathrooms and the third level will contain the master bedroom and ensuite bath, encompassing 2,200 square feet in total.
Dickson is no stranger to historic preservation. He owns several residential properties in Plymouth and the 705 Main St. office complex that was the former Century Twenty-One sales office. In addition, Dickson owns the oldest building in Detroit, the Charles C. Trowbridge House located at 1380 E. Jefferson. The Greek revival style structure was built in 1826. It is a Michigan State Historic Site and is on the National Register of Historic Places.
|News Plymouth Michigan