Township recruiting new firefighters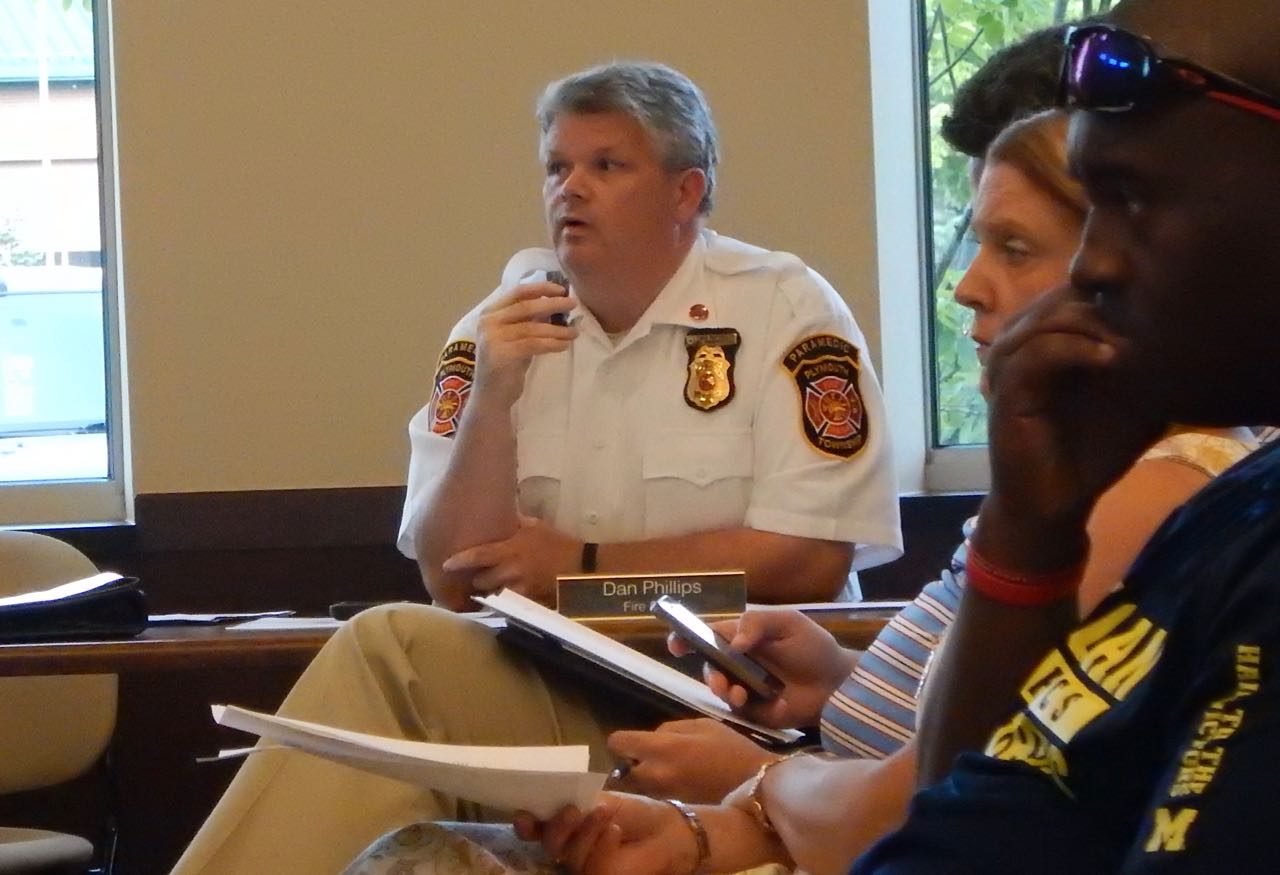 Fire Chief Dan Phillips answered questions for board members last week regarding plans for staffing the Lake Pointe Fire Station.
Jul. 15, 2017  PLYMOUTH EAGLE.
Plymouth Michigan News
Don Howard
Staff Writer
Plymouth Township officials recently approved the hiring of three new firefighters and the process to find qualified individuals continues amid a competitive environment.
Plans to reopen the Lake Pointe Fire Station are still on hold after township trustees balked at the lack of available finance details in a plan to work cooperatively with Northville Township to man the station and Northville Township officials sought more time for consideration of the proposal. In the interim, Plymouth Township Clerk Jerry Vorva is collecting applications to establish an eligibility list for Firefighter/Paramedics.
Job postings for the often-dangerous professional jobs have stringent qualifications, pay well and other municipalities are grabbing up the talent, Vorva noted.
Applicants for the Civil Service jobs must be at least 18 years of age, a U.S. citizen, hold a high school diploma or equivalent and possess a good driving record. In addition applicants must submit to drug screening, a background investigation and rigid physical and psychological testing.
The Plymouth Township Fire Department is a certified Advanced Life Support department which requires that applicants be certified Michigan Firefighter Level 1 & 11, Hazmat Operations Level certified and licensed as a paramedic by the state.
According to Deputy Clerk Sandy Groth, of 17 applicants contacted for interviews last February only five responded.
With a starting annual base wage of $43,041 after five years the salary becomes $71,735.
Applicants must pass a test accepted by all participating Michigan fire departments before applying. Applicants can schedule the required test at:  https://www.empco.net/fts/.
Plymouth Voice.
Photo: © Don Howard / Associated Newspapers