Township recreation/grants director leaves job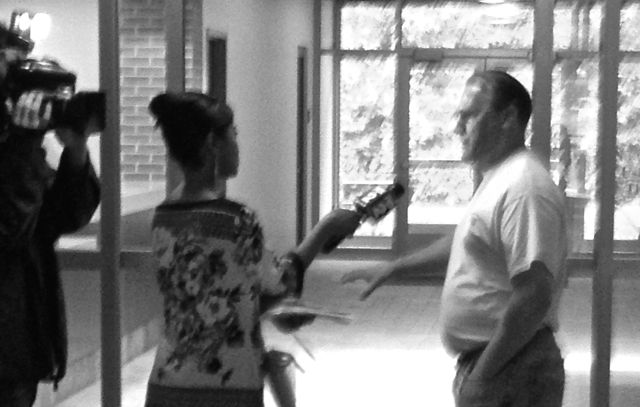 Plymouth Township Parks and Grants Director Mike Mitchell talks with Fox-2 reporter Ingrid Kelly after altercation, July 2015
Dec. 12, 2016  PLYMOUTH EAGLE.
Plymouth Michigan News
"I don't know whether he quit, resigned or was asked to leave. He probably knew he wasn't going to stay long under my watch. Had I fired him, I'd have all the details."
Don Howard
Staff Writer
There are no plans to replace Plymouth Township Parks and Grants Director Mike Mitchell who reportedly resigned last week, according to newly-elected Township Supervisor Kurt Heise.
Mitchell's departure and his whereabouts have been the topic of speculation for the past three months. Fellow township employees and residents have openly questioned Mitchell's job status after not finding him at any usual work location since mid-August. Many disgruntled township workers claimed that while he was not on the job, he was still being paid by the township.
Mitchell was the political appointee of defeated Township Supervisor Shannon Price, following him to the township from his staff job with the Wayne County Commission. Price created the new position for Mitchell in June 2016 after his appointment to the supervisor's job. Mitchell, paid $63,277 annually, served as Price's personal aide during his tenure on the commission. He took the new recreation/grants position in the township after approval by the former board members. His background check was purportedly completed by a committee including Northville Township Manager Chip Snider, Plymouth Township Human Resources Director JoAnn Coobatis and the late township Trustee Kay Arnold. At the time, Price told board members Mitchell's employment would generate cost savings to the township and lauded his presumed expertise in writing grants. Plymouth Township Fire Chief Dan Phillips, however, said he was unaware of any government grants for township public safety services written or prepared by Mitchell during Mitchell's tenure.
Heise said he was told by Coobatis that Mitchell was "gone" when he arrived at township hall last week.
"I don't know whether he quit, resigned or was asked to leave, Heise said. "He probably knew he wasn't going to stay long under my watch. Had I fired him, I'd have all the details."
When Mitchell's employee status was questioned by residents and officials during the past months, Price dismissed the questions with a quick "he's working" reply.
Records obtained by The Eagle through a Freedom of Information Act (FOIA) request show Mitchell was paid a monthly average of $2,353.85 up to Nov. 10. According to his Pay Statement Report his time card shows his last day of work as Friday, Oct. 21.
"Price was a political appointee, an at-will employee and we're not filling his position, we're saving the money," Heise said.
Mitchell's resume included a PhD in Molecular Cytogenetics, a master's degree in Human Genetics and bachelors degrees in chemistry and biology.
Before working with Price on his campaign, Mitchell was a familiar face in Lansing and in the local political arena while serving as chair of the 11th District Republican Committee. He served as a legislative director for Wayne County Commissioner Joe Barone who filled the remainder of Price's second term when Price resigned to take the township supervisor appointment.
In July 2015, Mitchell was involved in an infamous altercation with former Treasurer Ron Edwards at the township park over the placement of No-Parking signs. Both Mitchell and Edwards vehemently denied the near fisticuffs altercation ever took place when questioned by Fox-2 News reporters. Later a seasonal park employee who witnessed the incident and a former township police officer-park foreman exposed the details of the event.
Several calls to Coobatis and an email inquiry were not returned.
Plymouth Voice.
Photo: © Don Howard/Associated Newspapers