Township recall rally set for Friday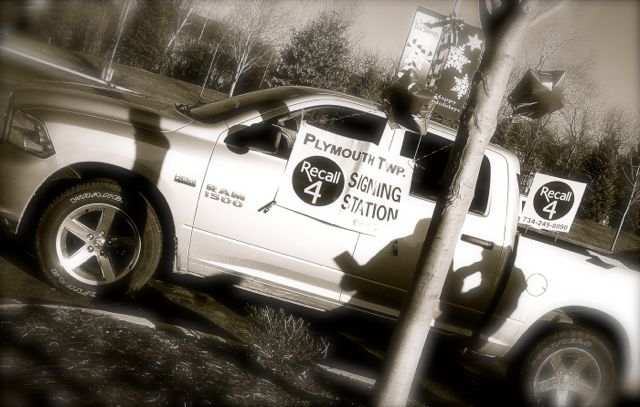 Dec. 31, 2014  PLYMOUTH VOICE.
Plymouth Michigan News
Organizers of the Plymouth Recall-4 campaign say they are having great success collecting signatures but will not decrease their efforts until they are sure that 100 percent of the required signatures to trigger a recall election this spring have been collected.
The group, which includes homeowners, retirees, business professionals and other concerned citizens, will meet for an outdoor rally this Friday afternoon at the intersection of Haggerty and Ann Arbor roads to recruit even more petition signers.
Their campaign, aimed at removing four targeted township officials; Supervisor Richard Reaume, Treasurer Ron Edwards, Clerk Nancy Conzelman and Trustee Kay Arnold, has gained momentum in recent weeks following two fundraising events. A spokesperson said the fundraisers and meetings resulted in "a lot of signatures" and several additional volunteers.
Rather than rely on door-to-door canvasing, the group came up with some unconventional ideas including setting up recall stations at various locations around the township and offering to provide transportation to any registered voter who couldn't make it to a signing location. The group even had Santa, or a close representation, collecting signatures at intersections, aided by Mrs. Claus.
The Friday rally is open to the public and planned to garner signatures of registered voters in the township on the four separate recall petitions. The recall was launched after repeated attempts by residents to obtain answers and action from the board members who had approved the sale of nearly $2 million in bonds for township recreation improvements including an all weather amphitheatre with granite benches that backs up to a subdivision and an all-weather structure in the township park that includes expensive amenities.
The group has cited the failure of the targeted board members to provide adequate fire and police protection to residents citing several tragic incidents as examples of the malfeasance of the four targeted officials. The recall group claims that while continuing to spend tax money on unapproved projects, the four have failed to respond to residents' concerns. The recall group is also critical of the four board members overt efforts to keep issues from a public election and denying them what they refer to as their constitutional right to vote, along with falsified information submitted to both state and federal authorities regarding the financial condition of the township.
The group has also cited the number of expensive lawsuits filed against the township due to the conduct of the officials from employees citing sexual harassment, unfair discharge and sexual discrimination which have been settled or won by the complainants as well as the lawsuit filed by the City of Detroit regarding an improperly assessed and titled $15 million parcel of land in the township.
Plymouth Voice.