Teen sentenced to prison in murder plot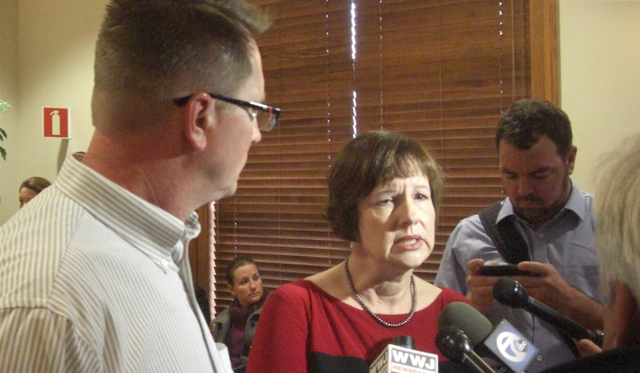 Photo © Don Howard/Associated Newspapers of Michigan
Jeffrey and Laurene Sikorksi, parents of Plymouth Township teen at 35th District Court in Oct. 2014.
Apr. 5, 2016  PLYMOUTH EAGLE.
Plymouth Michigan News
Roksana Sikorski, the Plymouth Township teen charged as an adult in a plot to murder her family was sentenced to serve from 10 to 20 years in prison last week in Wayne County Circuit Court.
Sikorski accepted a plea arrangement with prosecutors and entered a guilty plea to the attack in which she slashed the throat of her the 12-year-old brother in October of 2014. In exchange for the guilty plea to one count of assault with intent to murder, six other felony charges against her, including conspiracy to murder, were dropped by prosecutors.
The attack, according to prosecutors, was part of a plot Sikorski, then 15, and her boyfriend, Michael Rivera, 22 at the time, devised to murder her entire family as they slept so the two could run away together. Prosecutors said the two were exchanging text messages as Sikorski got a knife from the kitchen to slash the throats of her two siblings and parents. The explicit messages, including instructions and anatomical diagrams, were found by police investigators as they pursued Sikorski and Rivera to his Detroit apartment where the pair was arrested the morning after the attack. Both have remained in police custody since their arrest.
Rivera, now 24, is serving a life sentence after his conviction on seven felony counts by a jury. Sikorski accepted the plea deal from prosecutors Feb. 22. According to police reports, Sikorski entered her brother's room, placed her hand over his mouth and held the knife at his throat. He awoke and his throat was slashed as he ran screaming from his sister, according to investigators. His scream awoke his parents. Sikorski dropped the knife and she and Rivera fled the area as her parents called for emergency help.
All three of the children were adopted from a polish orphanage about 11 years ago. Her parents said Roksana Sikorski suffered psychological problems from the early-childhood abuse and that Rivera was the instigator of the attempted murder plot.
Her parents have protested the plea deal. They have claimed that she was coerced into the sexual relationship and the murder plot by Rivera.
Rivera's attorney claimed that Sikorski initiated the plot in an effort to help Rivera avoid a statutory rape complaint her parents filed in an attempt to end the ongoing sexual relationship between the pair.
Prosecutors said Sikorski was charged as an adult due to the nature of the crime and the graphic instructional text and phone messages presented by investigators.
Plymouth Voice.