Study Session to review permanent outdoor dining for Plymouth restaurants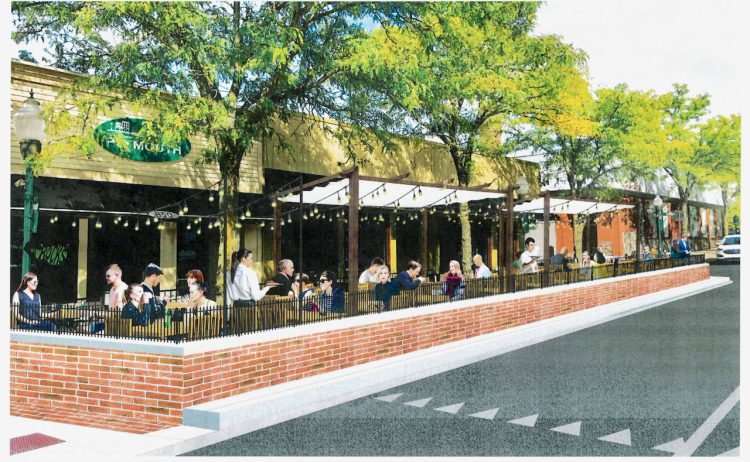 Feb. 15, 2022  PLYMOUTH VOICE.
Plymouth Michigan News
The Plymouth City Commission will hold a special joint study session today with the Downtown Development Authority, Planning Commission and Historic District Commission to roll-out a proposal for permanent outdoor dining for downtown restaurant and bar customers.
The study session is set for 7:00 p.m. Tuesday in the Plymouth Cultural Center, 525 Farmer Ave.
The concept known as "Parklets," "Street Seats" or "Curbside Seating" are platforms developed by the community-planning and architectural design firm, Wade Trim of Detroit.
Parklets use on-street parking spaces for additional restaurant seating.
According to information provided to the city commission and DDA by City Manager Paul Sincock, design work is incomplete and there has been no authorization or cost estimates provided to date. The proposed project is subject to approval by the city commission at a future date.
Representatives from Wade Tim will present renderings, discuss the parklet concept and take questions. No formal action is expected at this time, according to Sincock.
Sincock outlined some of the details of the project in an informational letter sent to the city commission last week. He pointed out the cost of the development would need to be spread onto those using the space. He added that respondents in a recent Eastern Michigan University survey favored allowing public parking spaces being used by restaurants as outdoor dining areas, and were satisfied with the amount of available parking in the city.
The study session is open to the public and will be live broadcast on the City's Facebook page and posted to the city website at a later date.
Plymouth Voice.