Veteran officer leaves Northville – 3 decades of service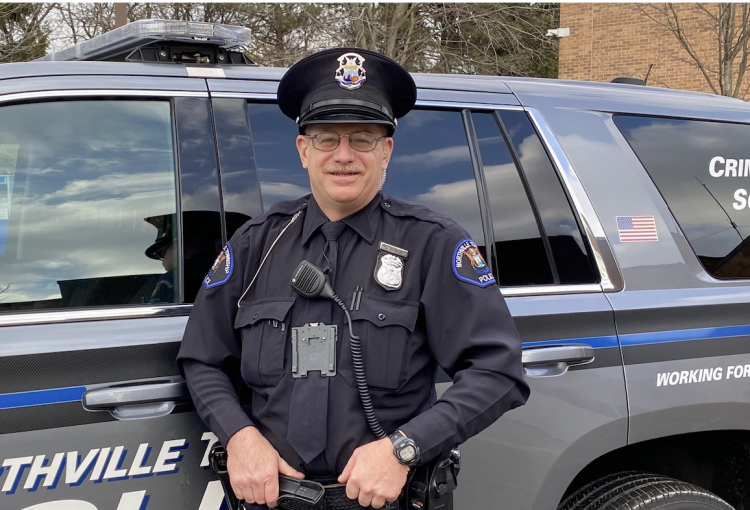 Feb. 17, 2022  PLYMOUTH EAGLE.
Plymouth Michigan News
Northville Township Police Officer James Beamish, who once wrestled a deer while on patrol, was on duty for the last time Jan. 25. He officially retired from the department after 35 years of service Jan. 30.
Beamish has been a constant fixture in the department since joining as a dispatcher in September 1987, when Northville Township still had an active Angus cattle farm and Beck Road was unpaved dirt from Five Mile to Eight Mile. After seven years as a police dispatcher, Beamish enrolled at Schoolcraft College Police Academy, fulfilling his dream to become a sworn police officer, following in his father's foot- steps.
"My father, who worked for 32 years for the Wixom Police Department, is the person who has been the most influential of my career," Beamish said.
His father never wrestled a deer, though. Beamish said one of his many unforgettable calls in his three decades of service took place when he and other township officers responded to a resident's back yard after a buck was tangled up in a soccer net and stuck in some shrubbery.
"I held him (the deer) down while they (other officers) worked to free the net, and let me tell you, deer are strong," said Beamish, who runs marathons as a hobby.
While his last assignment with the department had him serving on road patrol and as an evidence technician, Beamish has excelled in multiple positions throughout his career, officials said. He was a member of the township Accident Investigation Team, served as the department traffic enforcement officer, worked as a detective in the detective bureau, a rotating position, where he pioneered the way by becoming the first certified computer forensic investigator in Northville Township.
He also left his mark on the department as a field training officer when, for two decades, he was responsible for the train- ing of new officers to ensure that the best practices and competencies of the department were met.
"I enjoyed training new officers," Beamish said. "It was so rewarding" because he helped shape the future of the department, he said.
Beamish said he is most proud of his work as a computer forensic investigator.
"There are a couple of people on the Michigan Sex Offender Registry because of me," he said.
"Officer Beamish is one of the most versatile, talented police officers in the department," said Todd Mutchler, township manager and director of public safety. "He tackles every assignment with gusto. We will miss him and his enthusiasm for a job well done."
Beamish says he will miss assisting residents. He's saved at least four lives by using CPR and helped locate several lost children and those with dementia during his career with the department.
"Those are the most rewarding moments," he said.
Township Supervisor Mark J. Abbo recalled that Beamish's colleagues chose him as 2020 Police Officer of the Year, praising him for balancing excellent policing skills with both pride and humility.
"Congratulations to Officer Beamish on a wonderful career," Abbo said. "Thank you for your dedication to our com- munity. We appreciate your service."
Beamish said that he won't be idle in his retirement and is looking forward to his next career.
"I'm ready to turn the page and start a new chapter," he said.
Plymouth Voice.