Steppingstone School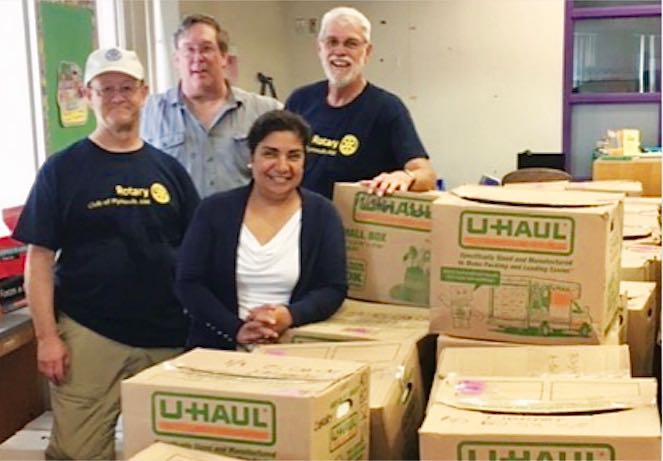 Jul. 31, 2019  PLYMOUTH EAGLE.
Plymouth Michigan News
It will be little like coming home for Steppingstone School in September.
Steppingstone, a school for gifted education servicing Western Wayne County, was founded in Plymouth in 1981 and will relocate to the Plymouth Arts & Recreation Complex (PARC) this fall.
"We are delighted to welcome Steppingstone School to the PARC community," said PARC Executive Director Gail Grieger.
"They will complement the other outstanding educational organizations that are currently located at PARC, including College for Creative Studies and Friends of the Rouge. We look forward to many creative collaborations between Steppingstone and our other tenants."
As a part of the relocation, Steppingstone officials agreed to donate the school library to Roberto Clemente Elementary in Southwest Detroit as the new location in Plymouth is directly across the Main Street from the Plymouth Public Library.
Volunteers, including Sam Kennedy, executive director of AIMS (Association of Independent Michigan Schools), his brother Doug Wallace and Mary Wolfe, president of the Rotary Club of Plymouth A.M., dismantled the former school building library shelving. Steppingstone trustees Dona Coffin and Fran Eldis filled more than 150 boxes with books from the school library for the donation.
"We are very appreciative and want to give many thanks to these good people," said Kiyo Morse, head of Steppingstone School.
Steppingstone School is a Young-K through grade 8, private, 501.c.3 nonprofit, independent and accredited day school for gifted students. The school currently boasts a "Small but Mighty" student body with a full curriculum. Rapid learning at about three times the average pace makes it possible for instruction to be challenging and often accelerated, regardless of age or grade, according to a school spokesperson.  In addition, it is the home of the SMART Center, an adjunct program for Electron Spin Resonance Laboratory Science Research for middle school gifted, high school, and undergraduate students.
PARC is a 501(c)3 a public charity, leading the effort to convert the former Plymouth High/Central Middle School and the 16.6 acres on which it stands, into an art, education and recreation complex serving the greater Plymouth community.
Plymouth Voice.