2 new canine officers join Canton police department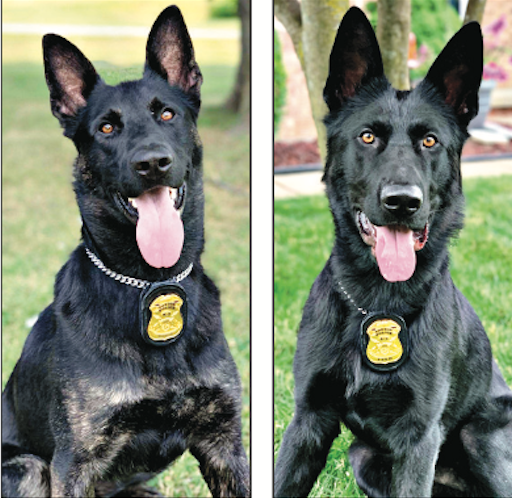 Jul. 31, 2019  PLYMOUTH EAGLE.
Plymouth Michigan News
TOP DOGS
Canton Township recently welcomed two new officers to the police force.
Canine Ofc. Ragnar, along with his handler/partner Ofc. Bryan Szostak and Canine Ofc. Tino, with his handler/partner Ofc. Rian Zinser, received certifications from the National Association of Professional Canine Handlers and the K9 Academy Training Facility.
During their intensive 288-hour certification program, both K9 teams completed advanced obedience training along with training in tracking, evidence searches, building searches, area searches and handler protection. The teams are also certified to locate heroin, cocaine, methamphetamines and ecstasy.
Ragnar is a Dutch-German Shepherd cross breed, and Tino is a German Shepherd. Both are 17-months old, and were imported from East Germany. Drug forfeiture funds were used to purchase and train the new canine officers. Forfeiture funds are also used for additional canine expenses including food, equipment and veterinary services.
Prior to working their first shift in Canton, both teams received valuable donations including a Buddy Bag full of canine medical supplies to treat injuries sustained in the field, from the K9 Defender Fund a non-profit organization. They also received raid vests from Brady's K9 Fund, a non-profit organization founded by a 9-year-old boy whose goal was to provide vest protection for police canines.
"We are grateful for the generous donations from both non-profit organizations," said Public Safety Director Joshua Meier. "Our K9 units have always received tremendous support from the community, and these donations of safety enhancements are reflective of the compassion expressed and felt toward our canine officers," Meier added.
Plymouth Voice.
Gallery Photo: Ofc. Rangar (L) Ofc. Tino