Prison farm near Plymouth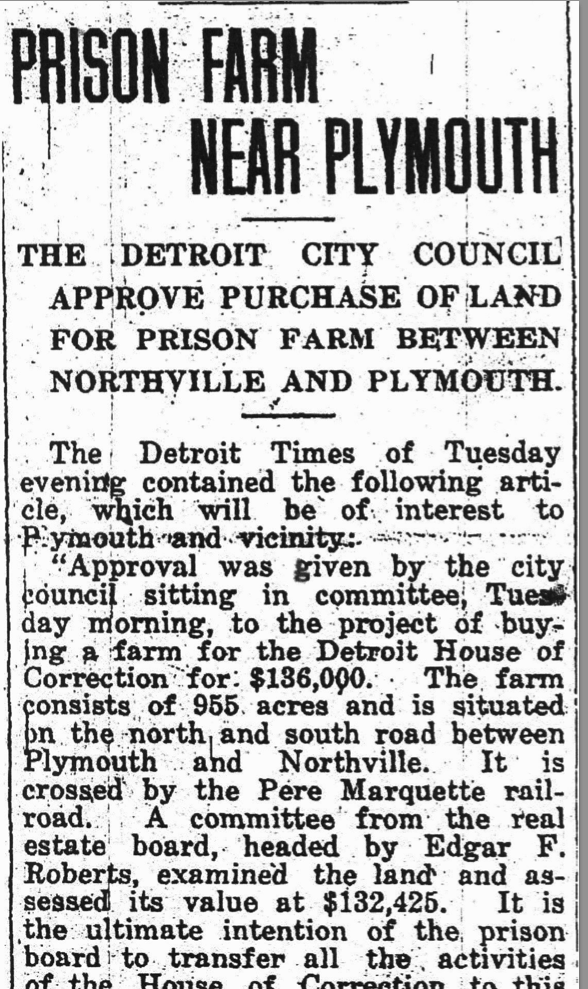 Jun. 1, 2014  PLYMOUTH EAGLE.
Plymouth Michigan News
An archived newspaper article, source unknown, refers to a Detroit Times evening edition and describes the Detroit City Council approval for the hotly disputed prison farm property located in Plymouth Township. The Detroit House of Corrections built in 1861, was owned and run by the city of Detroit but originally accepted prisoners from throughout the state including women. The original farmland consisted of 955 acres and was purchased for $136,000.  The assessed value was $132,425.
In documentation obtained from the office of Kwame Kilpatrick, former Michigan state representative and inprisoned ex-mayor of Detroit, the property at one time was valued at $50 million. Kilpatrick planned to sell the land.  Wayne County listed the property prior to the 2011 foreclosure sale to Plymouth Township for $287,000. Plymouth Township officials paid over $606,000 and financed the purchase with a loan from the Bank of Ann Arbor.
According to informed sources., Plymouth Township Treasurer Ron Edwards presented the real estate purchase proposal to the Board of Trustees.
Plymouth Voice