Plymouth-Canton band is state champion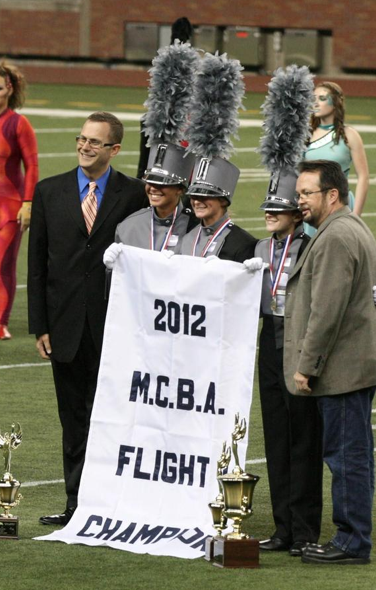 Nov. 8, 2012  PLYMOUTH EAGLE.
The Plymouth-Canton Marching Band (PCMB), received top honors for Flight I at the 2012 Michigan Competing Band Association (MCBA) championship event    Nov. 3 at Ford Field in Detroit.  This is the 23rd time that Plymouth- Canton has been named state champion.
With a final score of 89.7, the Plymouth-Canton band won all three caption awards including Best Music, Best Marching, and Best General Effect. Receiving the coveted trophy and state championship banner were drum majors Shelbie Torok, Katie Nymberg, and Sarah Wohl.
The award-winning program titled The Last Dance is an 8- minute show containing music from Louis Armstrong's What a Wonderful World and Jim Croce's Time in a Bottle. The 172-member band is directed by David Armbruster, with assistance from Jonathan Thomann, Sean McElroy, Bobby Hazelton, Emery Craig and Marc Whitlock and a team of music and performance instructors.
The Plymouth-Canton Marching Band also enjoyed a first place finish at the Bands of America Pontiac Regional Championship (Oct. 6), a sixth place finish at the Bands of America Super Regional in Indianapolis (Oct. 20) and a first place finish at the Huron Valley Invitational (Oct. 27).
The state champions will now prepare for the Bands of America Grand National Championship beginning next Thursday in Indianapolis where the Plymouth- Canton musicians took top honors in 1999. Last year, the band did not compete at the National Championship  because  they marched in the 2011 Macy's Thanksgiving Day Parade in New York City.