Former Plymouth business owner stars in show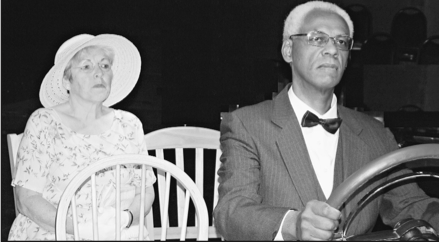 Nov. 8, 2012  PLYMOUTH EAGLE.
Miss Daisy
Sandy Marulis will portray Miss Daisy when Barefoot Productions brings Driving Miss Daisy to the stage at 8 p.m. Nov. 9,10,16,17 and at 2 p.m. Nov. 11 and 18.
Marulis, a 40-year resident of Plymouth, is the former owner of Michigan Made & More in down- town Plymouth. She is known by many for her dedication to the preservation and development of the community through her work on the Plymouth Community Chamber of Commerce as past president and the chair of the retail committee; the director of the Plymouth Downtown Development Board; a member of the Downtown Business Association as well as con- tinuing to serve on the board of Friends of the Penn Theatre.
Marulis is presently working with Calvin Carson and David Fedewa, talented actors from the Rosedale Community Players, a community theater that has had been performing in surrounding neighborhoods for the past 43 years.
"We're happy to have them working with us to help bring about the highest standard of local theatre to our audiences," remarked Brian Cahalan, president of Barefoot Productions.
Marulis said she is enjoying her starring role in the play.
"I am having so much fun working with the members of Barefoot Productions. I've always enjoyed dressing up and participated in Plymouth After Dark – When the Stars Come Out as Dolly Parton, Mrs. Potato Head, Yoda, Cat in the Hat and the Scarecrow from the Wizard of Oz, but as Miss Daisy, I'm really learning the craft.
"I'm just thankful I have the opportunity to be a part of such a worthwhile event. I'm hoping everyone will come out for this show, but also support our very own community theatre's future offerings and make the performances a part of their cultural experience within our community," Marulis said."
Tickets are $16 for general admission and $14 for students and seniors and may be purchased by calling (734)560-1493 or at www.just-gobarefoot.com.
"I haven't been on stage since high school and I absolutely love it. I'm having so much fun and the show is going very well," Marulis said."