NWS-SKYWARN spotter class offered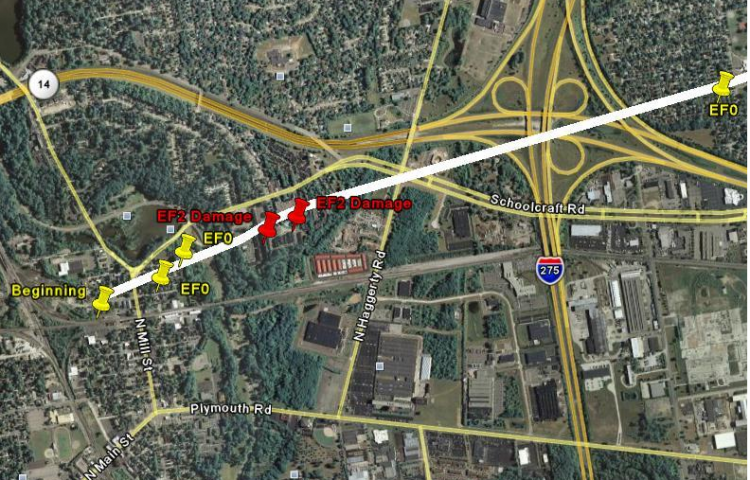 Mar. 1, 2020  PLYMOUTH VOICE.
Plymouth Michigan News
Become an official SKYWARN Severe Weather Spotter for the National Weather Service.
As the tornado season approaches the National Weather Service will offer SKYWARN Spotter Training classes in southeast Michigan, through April.
A local class will be held on Tuesday, March 17, 6 – 8:00 p.m. at the Livonia Library, located at 32777 Five Mile Road, Livonia, MI 48154
Topics will include:
Severe weather hazards including thunderstorm and tornadoes
How to identify important storm features
Storm spotter reporting guidelines
Review of last years weather events
Training enables spotters to provide essential information for all types of weather hazards and have the ability to identify and describe severe local storms to enable NWS to issue more timely and accurate warnings, not only for tornadoes, but severe thunderstorms and flash floods. SKYWARN storm spotters are the citizens who form the nations first line of defense against severe weather.
Volunteers include police and fire personnel, dispatchers, EMS workers, public utility workers and private citizens.
The classes last about 75 minutes and are free and open to the public. Spotters must be a minimum age of 13 to report findings. While classes are appropriate for all ages ages 10 and up will likely get the most out of the training.
For other classes visit: https://www.weather.gov/dtx/spotter2
NWS reports tornado in Plymouth  Sep. 13, 2008
EF2 TORNADO CONFIRMED IN PLYMOUTH…  AT 918 PM SATURDAY SEPTEMBER 13TH A TORNADO OCCURRED IN PARTS OF PLYMOUTH AND LIVONIA IN WAYNE COUNTY. THE TORNADO PATH LENGTH WAS 2.6 MILES AND BEGAN JUST WEST OF STARKWEATHER STREET NEAR THE RAILROAD TRACKS IN PLYMOUTH AND TRACKED EASTWARD ACROSS THE INTERSECTION OF INTERSTATES 96 AND 275 AND ENDED IN LIVONIA AT THE INTERSECTION OF NEWBURGH AND RICHFIELD ROADS NEAR LADYWOOD HIGH SCHOOL. THE MAXIMUM PATH WIDTH OF THE TORNADO WAS ROUGHLY 200 YARDS IN PLYMOUTH AND WAS 100 YARDS OR LESS IN MOST OTHER LOCATIONS ALONG ITS PATH.
Plymouth Voice.
Aerial Photo: National Weather Service