Uncertainty looms over post election process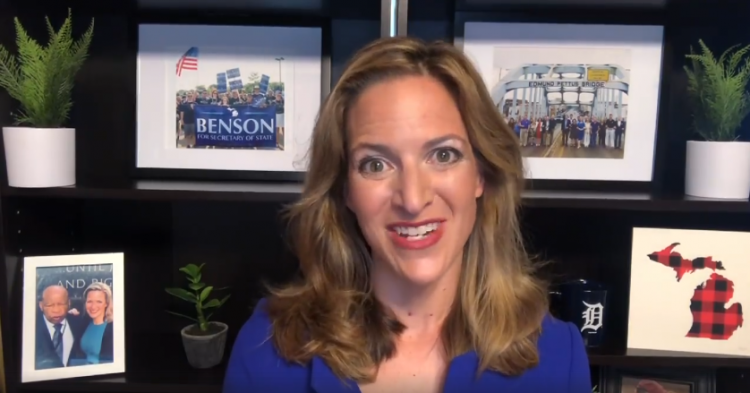 Sep. 21, 2020  PLYMOUTH VOICE.
Plymouth Michigan News
The state's chief election officer is in the spotlight as uncertainty looms over post election process amid new legislation, mistakes, lawsuits and profound rulings.
Current rules about the processing of ballots have recently changed as an unprecedented number of voters are expected to vote by mail in the presidential election.
Michigan Secretary of State Jocelyn Benson has predicted more than 5-million state residents will vote in the upcoming Nov. 3 election, and adds by her estimate more than 3-million will utilize absentee ballots. According to data from Bridge Michigan, 1.6 million absentee ballots were cast in the August primary.
Benson reports 2.3 million state registered voters have already requested absentee ballots and estimates a 60 to 70 percent turnout of the states estimated 7.5 million registered voters; double the amount from August.
Last Tuesday, the Michigan Senate passed legislation that allows local clerks in larger municipalities a one-day head start in processing absentee ballots. The Senate bill, approved in a 34-2 bipartisan vote, is now headed to the House for approval.  Officials say ballots would remain in a separate secrecy sleeve and locked in secure containers.
Benson reportedly thanked the Senate for their approval. Processing a mail-in ballot is time consuming and usually involves a mix of automation and manual steps.
Also on Tuesday-according to the Detroit News, an incorrect version of the ballot listed Libertarian candidate Jeremy Cohen as President Trump's running mate, in place of Vice President Mike Pence. The News reported a spokeswoman for Benson said she was not sure how many of the 400 early ballots were actually sent to voters before the error was corrected.
"We do not know how many of these ballots were sent to voters, but clerks were instructed to immediately alert voters of the error and send a corrected ballot. Voters who use the incorrect ballots instead of corrected ballots will still have their vote counted,"
Officials knowledgeable of the problem stated that it was the result of an isolated human error and it would not happen again.
In a Michigan Court of Appeals case Wednesday, the court ruled that Benson's decision to send a mass mailing of unsolicited absentee ballot applications to the state's entire 7.5 million registered voters was legal. In August, State Court of Claims Judge Cynthia Stephens said Benson had a clear and broad authority to mail the applications. Trump has repeatedly claimed expanding mail-in voting will slow the process, invite voter fraud and produce inaccurate results. Trump supporters and Democrat opponents are worried about people trying to manipulate the voting system.
"The Secretary of State, as chief election officer of this state, merely sent applications that will make it easier for voters to exercise that constitutional right, should they choose to do so," Stephens said.
On another front, despite the fact that state law requires absentee ballots to be received by the time polls close on Election Day, Stephens ruled Friday that envelopes postmarked by the eve of Nov. 3 are eligible to be counted even if they show up days (or weeks) later later, citing the Coronavirus and chronic mail delays.
Stephens was appointed to the court in 2008 by former Democratic Gov. Jennifer Granholm.
All registered voters in Michigan have the right to vote by mail.
Plymouth Voice.
Gallery Photo: Facebook