Northville Township names deputy police director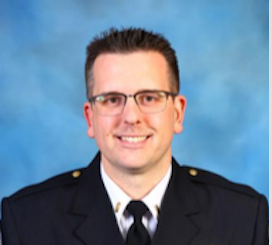 Feb. 19, 2019  PLYMOUTH EAGLE.
Plymouth Michigan News
Paul Tennies has been named as the new deputy director for Northville Township Police Services.
"This promotion balances the staffing of the Northville Township Department of Public Safety in leadership consistent with the vision of the strategic plan, which advances our professional development strategy and maximizes operations," commented Director of Public Safety Todd Mutchler.
"Chief Tennies continues to build on his law enforcement career achievements with this promotion to deputy director for police services. Throughout his career, he has demonstrated a commitment to service and an understanding of effective and efficient police practices. Most recently as our accreditation manager, he demonstrated a high aptitude in process management and implementation.
"He recognizes the complexities of policing in the 21st century while achieving the vision established by the township supervisor and board of trustees. In his new role, he will be responsible for the daily operations of police services," Mutchler said.
In his new position, Tennies will be under the general direction of Mutchler, and will perform administrative and tactical duties. He will be responsible for the development of personnel ensuring performance is met at a determined level of service, according to a prepared statement from the township.
Tennies began his career with Northville Township upon graduating from the Wayne County Regional Police Academy in 2002. While assigned to the patrol division, he served as a field training officer, instructor in defensive tactics, radar and LIDAR, as well as a property officer. In 2008, he was assigned as a task force officer to a Drug Enforcement Administration Task Force in Detroit. During his time with the DEA, Tennies was recognized by the United States Attorney's Office for his work. In 2012, Tennies was assigned to the Michigan State Police Western Wayne Narcotics Task Force as a detective. While with this task force, Tennies was recognized by the executive office of the President of the United States as the lead investigator for the 2014 National HIDTA Outstanding Marijuana Investigation.
He was promoted to sergeant in 2014 and supervised the Northville Township Detective Bureau. During this time, he worked to enhance Northville Public School emergency response plans with the implementation of ALICE and was involved with policy change and training staff district wide.
Tennies was named the interim staff operations commander in 2015, and was promoted to lieutenant in early 2016. Since that time, he has served as the staff operations commander and most recently the patrol operations commander. In September of 2017, Tennies became the accreditation manager for Northville Township. He serves as an assessor for the Michigan Law Enforcement Accreditation Commission validating agencies involved in state accreditation.
Tennies is a member of the Michigan Association of Chiefs of Police, Southeastern Michigan Association of Chiefs of Police and the Wayne County Association of Chiefs of Police.
He has a bachelor's degree in Criminal Justice Administration from Concordia University and a master's degree from Eastern Michigan University in Homeland Security Management & Technology. In 2015, he graduated from the 31st class of the Eastern Michigan University School of Police Staff and Command. He is a certified trainer in Situational Leadership, and has attended the Michigan Association of Chiefs of Police New Chief's School and the Federal Bureau of Investigation Michigan Police Executive Development Seminar.
Plymouth Voice.