Northville Police Officer of the Year is also on-call firefighter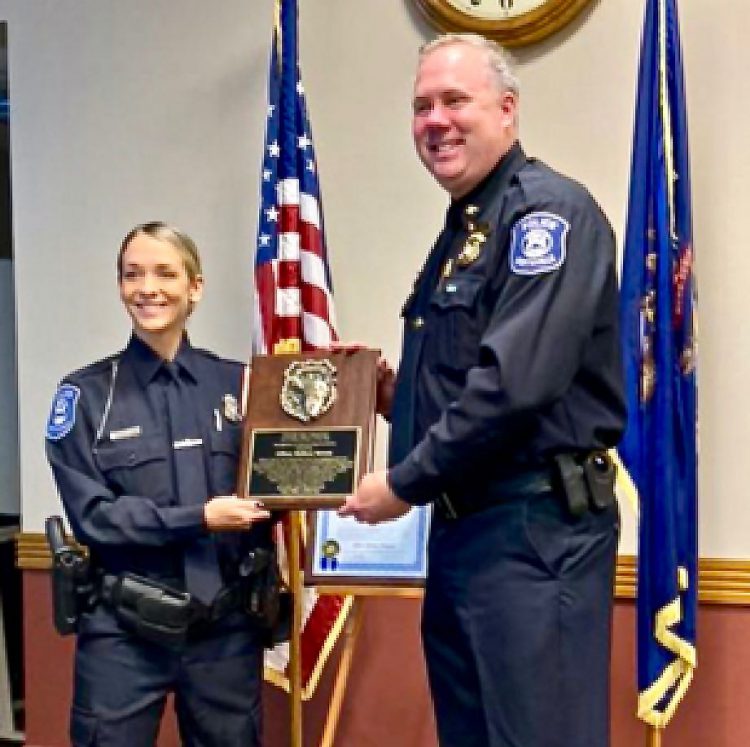 Oct. 16, 2020  PLYMOUTH EAGLE.
Plymouth Michigan News
Melissa Vernon was chosen as the City of Northville Police Officer of the Year for 2019, a recognition that presented at the city council meeting Sept. 21. While the meeting was online, Police Chief Alan Maciag presented a plaque to Vernon in person at city council chambers.
The award recipient is chosen annually by fellow officers. Vernon stood out for her work in bringing two Rape Aggression Defense (RAD) training sessions to the city and instructing women in self-defense along with fellow officer Matt Duggins. She is also the taser-training officer for the department.
"I felt honored to receive the award," Vernon said.
"I worked really hard all year to be there for the community. I took on a lot of different responsibilities and roles." "She's a hard worker, does a great job and is an exceptional police officer," said Maciag, who intended to present the award when it was announced in June but realized that in-person city council meetings might not happen anytime soon.
Vernon is also a newly minted on-call firefighter for the city and has already been on fire runs. That is work she does outside of the Police Department, but also shows her commitment to serve in the community, Maciag said.
"I absolutely love Northville. The community and residents have been so welcoming," Vernon said.
Vernon has been on the Northville Police force since April 2018. Previously, she served two years on the Detroit Police Force. She holds a B.A. in criminal justice from Lindenwood University in St. Charles, MO, where she attended as an NCAA scholar-athlete in wrestling and trained at the Detroit Police Academy.
Plymouth Voice.