Northville plan goes before board Tuesday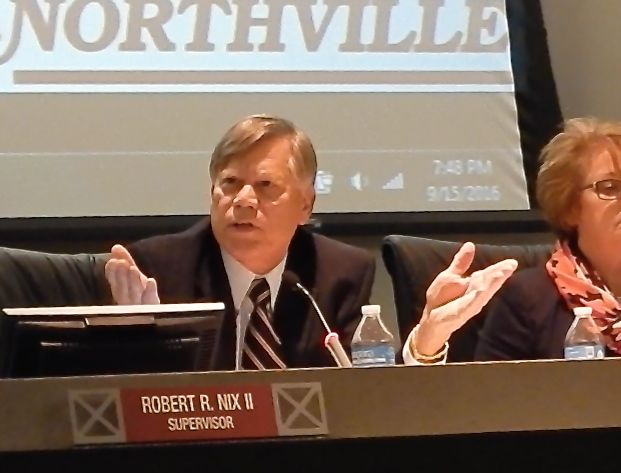 Robert Nix Northville Township Supervisor
Nov. 25, 2016  PLYMOUTH EAGLE.
Plymouth Michigan News
Updated
Northville Township board members will decide on an alternative plan for the proposed Redico building development at the former Scott Prison Facility property at Five Mile and Beck roads when they meet on Nov. 29, having received approval from members the planning commission.
An original proposal from Redico, a Southfield-based developer, met with strong protests from residents who objected to the inclusion of a 170,000 square-foot Meijer store planned for the center of the 53- acre development. The new plan for a mixed-use development has replaced the Meijer store with 99-130 single-family homes, on 50-by 100-foot lots with access to an adjacent community park. Also included are two clusters of town homes and 160-190 apartments, along with about 130,000 square feet of retail space and parking.
Developers said they hoped to replace the planned Meijer with a large market but that the rental space was flexible and could include a bank, drugstore, coffee shop or a small "boutique" movie theater.
Residents were still not pleased with the plan and said the large development would disturb the quiet atmosphere of the area. Residents also expressed concerns about the traffic flow and patterns at the proposed site and questioned the density of the planned single-family homes which were described as 40-feet wide on 50- foot lots and about 2,400 to 3,200 square feet. The townhouses could be developed to provide office spaces on the first floor, developers said.
The new plan was presented at a joint informational meeting of the Northville Township Planning Commission and board of trustees on Oct. 25.
Representatives from Redico told the assembled officials and residents that this new plan is a more family-friendly design with more amenities. The representatives stressed that the plan is still conceptual and will need adjustments.
Plymouth Voice.