New ambulances add to Canton's first-class Fire Department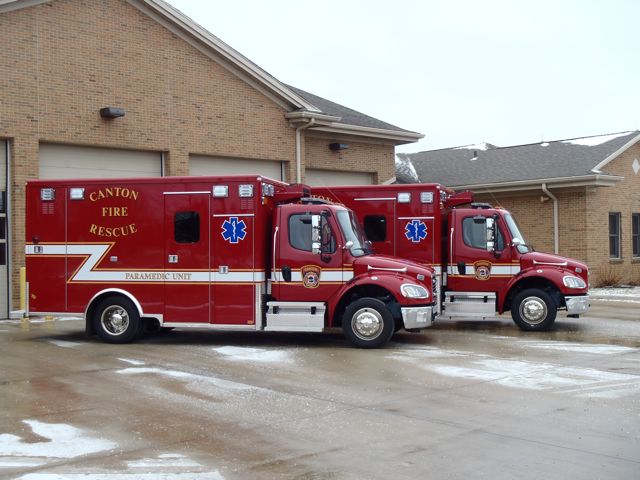 Feb. 20, 2013  PLYMOUTH VOICE.
The Canton Fire Department took delivery of two new ambulances last week to replace two older units being taken out of service.
Canton's Fire Chief, Josh Meier said the new ambulances were ordered with heavy-duty chassis so as to reduce maintenance cost and service down time. The ambulance cab and chassis were manufactured by Freightliner, and the bodies by American Emergency Vehicles, of Indiana, at a cost of over $200,000 each unit.
"We initiated a consortium purchase with the Livonia and Northville Township Fire Department to facilitate a cost savings. By taking advantage of a trade-in program we were able to apply credit for the old ambulances to the new purchases." Meier said.
Canton Fire Department maintains a fire-based service where all firefighters are paramedics trained in Advanced Life Support (ALS).
With the new ambulances, Canton's fleet will remain at six ALS units with six two-man squads based at the department's three fire stations. Meier says they have an average of 3 to 4 ambulances in service at all times and have 2 reserve units standing by if needed.
Meier reports EMS calls in Canton are on the increase. "Last year our firefighter-paramedics responded to 5,472 medical calls that resulted in over 3,500 transports to area hospitals."
Unlike neighboring Plymouth Township's Community Fire Department that frequently must hand-off patients to a designated outside ambulance company due to mandated departmental policy, Canton's fire department handles all patient required transports and the revenue collected from patients offsets their departmental costs.