Community Bulletin Board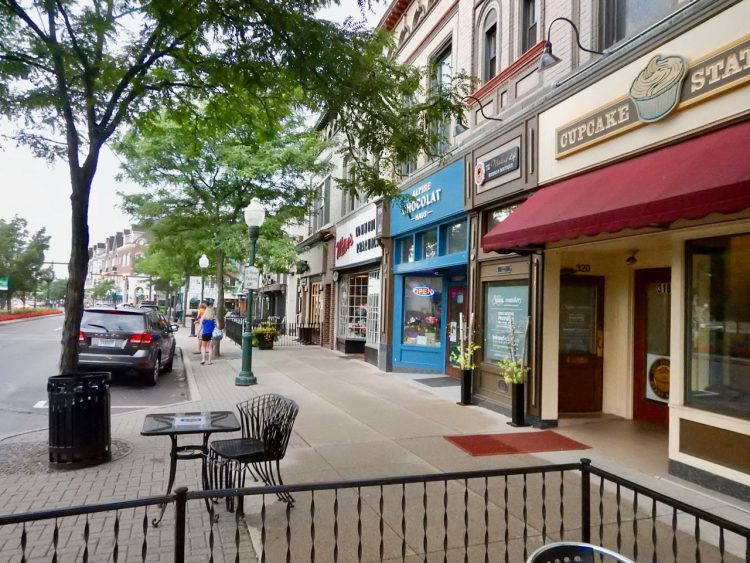 Oct. 2, 2020  PLYMOUTH VOICE.
Plymouth Michigan News
UPDATED
Downtown Construction
The Plymouth Downtown Development Authority has authorized maintenance on
the Central Parking Deck which is scheduled to begin the week of October 5.
During construction, there will be times the Central Parking Deck will have
closures. It could be one level at a time, or sections of both levels. That
will mean parking in the Central Parking Deck will be limited during
construction.
The entire lower level is expected to be closed on Monday, October 5 as part
of the initial phase of construction. The phased construction project is
expected to last through early November.
The DDA has secured the Christian Science Church parking lot near Ann Arbor
Trail and Harvey St., to help make up for the temporarily lost spaces. The
church parking lot is a half-block from downtown, and a short walk for those
who are working or visiting downtown.
During construction, visitors, business owners and employees should be
considering other areas to park where they won't be ticketed for time
limits.  Besides the Christian Science Church lot, there is the East Central
Lot behind the Penn Theatre, the municipal lot at Harvey and Wing streets,
as well as the Saxton's lot at Ann Arbor Trail and Deer.
Any available space in the Central Parking Deck, all other municipal lots
and on-street parking will continue to have time limits enforced.
Hazardous Waste Collection Day
Plymouth Township will hold a Household Hazardous Waste Collection on Saturday, October 3, 2020 from 9 am to 1:30 pm, at Troy Design & Manufacturing Company, 14425 N. Sheldon Road.
Masks will be required for this event. For traffic control purposes, plan to enter the parking lot from the southbound lanes of Sheldon Road.
Items that are accepted include:
Household paints, stains, dyes, floor care items, furniture polish, bathroom cleaners, lawn and garden chemicals, pesticides, fertilizers, antifreeze, motor oil, gasoline, automotive batteries, dry cell batteries, propane tanks, old computers, printers, scanners, TV's, cell phones, fax machines, mercury containing thermometers, thermostats and elemental mercury, fluorescent light bulbs (standard and compact), smoke detectors, fire extinguishers, Pharmaceutical Waste (Non-controlled substances only)
Items that are not accepted include:
Commercial waste, industrial waste, ammunition, explosives, 55-gallon drums, radioactive materials, unknown – unlabeled waste, shock sensitive materials, household trash, appliances.
For more information you can contact Plymouth Township Solid Waste Coordinator Sarah Visel by email at svisel@plymouthtwp.org, or by phone at 734-414-1452.
Joint City / Township Shred Day
The City of Plymouth and Plymouth Township will offer a shred day for all residents of both communities on Saturday, October 10, from 9:00 a.m. to 12:00 p.m. (or until trucks are filled) at the Plymouth City Hall Parking Lot, 201 S. Main Street. This event will also include electronic (e-waste) recycling. (See details on what e-waste may be collected below.)
Paper to be shredded shall be limited to 5 banker boxes or paper bags on each trip. Documents in plastic bags must be removed. We ask that no commercial businesses use this service.
Residents can make multiple trips throughout the morning.
Residents participating must also provide proof of City or Township residency which can be done with a driver's license, voter ID card, water bill, or property tax bill.
Masks will be required at this event.
Electronic (e-waste) recycling is also available.
Acceptable Equipment for Recycling:  Computers, Laptops, Servers and Racks, LCD Monitors, Keyboards, Mice, Fax Machines, Wires, Phones, Cell Phones, Printers, Scanners, Networking, Battery Back-ups, Hard Drives, Toners, small appliances, and miscellaneous electric office equipment.
Not Acceptable Equipment:  CRT monitors or TV's (Tube Variety), Refrigerators or large appliances, Household Batteries, Light bulbs.
Blood Drives
The American Red Cross is holding blood drives on the following dates. 
Thurs.   Oct. 1    PARC  9 a.m.-2:45 p.m.
Mon.    Oct. 12   Church of Christ Church  1:00 p.m.-6:45 p.m.
Tues.    Oct. 13   Inn at St. Johns  11:00 a.m.-4:45 p.m.
Tues.    Oct.  20   Northridge Church  9:00 a.m.-2:45 p.m.
Wed.    Oct. 21   First Presbyterian church 9:00 a.m.-2:45 p.m.
Wed.    Oct. 21   Plymouth /Ann Arbor Elks 9:00 a.m.-2:45p.m.
Mon.    Oct. 26   VFW Post 6695- Plymouth 1:30-7:15 p.m.
The Red Cross is continuing the COVID Antibody testing through January 15. Blood donors will receive their results 7-10 days after donating.
To donate, call 1-800-REDCROSS or go to redcrossblood.organd enter zip code
Early Voting
The City of Plymouth reports they are receiving numerous questions about 'Early Voting'.
Early voting is not new.  It is simply coming to your local clerk's office to apply for and receive an absentee ballot. You can cast your ballot at that time and drop it in the drop box, or take it with you and return it at a later date.
Absent voter ballots have been available for many years, but the approval of Proposal 18-3, made this available to all registered voters in Michigan.
Canton Clerk's Office open Saturdays in October
Canton, MI– In preparation for the November 3 election, Canton's Clerk's Office will be open every Saturday in October to help meet voter needs. The Saturday hours are for election business ONLY, all other Departments will be closed to the public. The schedule is as follows;
Saturday, October 3 from 10am – 2pm
Saturday, October 10 from 10am – 2pm
Saturday, October 17 from 10am – 2pm
Saturday, October 24 from 10am – 2pm
Saturday, October 31 from 8:30am – 4:30pm
Voters are also encouraged to visit mi.gov/vote. This link takes you directly to the Michigan Voter Information webpage where visitors can do the following:
– Verify your Voter Registration
– Register to Vote
– Request and Track your Absentee Ballot
– Find your Polling Place
– View your Sample Ballot
Absentee ballots were mailed out September 24, voters should begin receiving them in early October. If you have not received your ballot by October 9, please call the Clerk's Office at 394-5120.
Ballots in the mail
City of Plymouth officials report voters who requested absentee ballots should soon see their ballots arriving in their mailboxes soon. The Clerk's office delivered absentee ballots to the post office last week for over 3700 absentee ballot applications received as of last Thursday, September 24th.
Ballots can be voted and returned by mail or hand-delivered to one of the drop boxes available for the City Hall. One of two drop boxes inside Plymouth City Hall is available 24-hours, and a third drop box at the drive-up area at the Plymouth District Library, is also available 24-hours.  Remember to sign your ballot return envelope and seal it with your ballot inside in its secrecy sleeve.  MUST BE SIGNED BY THE VOTER IT WAS ISSUED TO.
Northville Historic Study deadline extended
City Council extended the adoption deadline of the Local Historic Study Report of the 2018 survey of the City's Historic District to Jan. 4, 2021.
The study report had been adopted at the Aug. 17 meeting but it was later discovered that approval of the June 2019 meeting minutes of the Local Historic District Study Committee (LHDSC) had to be included in that report to ensure compliance with State ordinances. The time extension allows the LHDSC to amend the report for that sole purpose and for council to have another set of first and second readings.
Northville construction work
Weather dependent, the plans for road and infrastructure repairs and reconstruction include the following projects:
-Allen Dr. –Restoration is underway with top-course asphalt paving.
-Grace Court – The crew is pouring driveways with backfill and restoration.
-Grace St. – South of 8 Mile, top course asphalt paving is underway. North of 8 Mile, the crew is removing structures and beginning the water main installation.
For questions or special accommodations, contact the City's engineering consultants, Fleis & Vandenbrink's onsite representative at 586.899.7015, or their office at 248.536.1997. View the latest projects by visiting the community update page.
Northville Senior Advisory Commission has opening 
The Senior Advisory Commission, which serves as an advisory board for the senior services and programs of the Northville community, currently has an opening for a City resident. Commissioners act as a liaison between the citizens of the community and the Senior Services program and also advocate for the community and its governmental bodies on senior issues.
Applicants must be a resident of the City of Northville for at least two years, be registered to vote in the City of Northville, and be able to demonstrate tangible evidence of his/her interest in senior programs. The nine-member board includes three members who are City residents. The term is for three years.
Applications will be accepted until Sept. 25 and are available on the City of Northville website or at the City Clerk's Office, 215 W. Main Street, Northville, MI, 48167.
The City Clerk's Office will contact applicants about interview dates and times with the Selection Committee. Applications of those not chosen will be kept on file for future consideration.
Plymouth Voice.