Foundation donation helps Fife & Drum Corps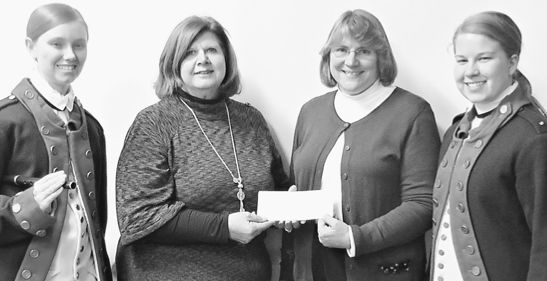 Feb. 21, 2013  PLYMOUTH EAGLE.
The Plymouth Fife & Drum Corps will be looking as good as they sound when they travel to Connecticut this summer, representing the community at an international event.
Penny Joy, chair of the Plymouth Community Foundation Advisory Committee presented Fife & Drum Corps President Gayl Parr with a $3,392 check, which will be used to purchase a new drum major mace, a musket, swords and many other much-needed replacement parts for drums along with new guard equipment for the corps. The equipment and uniforms of the corps are historically accurate to those worn by George Washington's personal guard and therefore very expensive to replace. Parr said.
"Our old equipment was starting to show its age. Because of this grant, we will be able to replace a lot of aging equipment all at the same time instead of piece by piece over many years. It will really have a great impact on the appearance of the corps," said Corps Musical Director Jim Predhomme.
"It's especially timely as this year we will carry the name of Plymouth, Michigan to Independence Hall in Philadelphia and to the Deep River Ancient Muster in Connecticut."
The Deep River Ancient Muster is an international event attracting fife and drum corps worldwide. It's the largest fife and drum gathering in the world, starting with a tattoo to kick off the three- day event. Only the best corps are invited to perform, Predhomme said, "and the Plymouth corps will be one of them.   It's essential the corps looks its best for this event."
"I'm so grateful to the Community Foundation of Plymouth. The support is especially important as we don't receive funding from the schools or government. Plymouth Fife & Drum Corps is one of Plymouth's jewels. The community is lucky to have a world class Fife & Drum Corps to call its own," noted the corps Ways and Means Chairman Lisa LiGreci.
Plymouth Fife & Drum Corps is an inter- nationally renowned world class Fife & Drum Corps made up of students ages 12 – 18 from Plymouth and surrounding communities. Practicing year round, members are dedicated to preserving the ancient arts of color guard, fifing and drumming through live performances at parades, patriotic celebrations, and other civic events.
At the close of the performance season, the corps members tour to historical landmarks. For more information, visit www.pfdc.us.
The Community Foundation of Plymouth (CFP) is dedicated to building a permanent endowment to enrich the quality of life in the greater Plymouth area. Established in 2005, the foundation has awarded nearly $150,000 in grants and scholarships that have benefited Plymouth area residents. The Community Foundation of Plymouth is affiliated with the Ann Arbor Area Community Foundation. For more information, visit www.cfply- mouth.org.