National Guard to aid vaccinations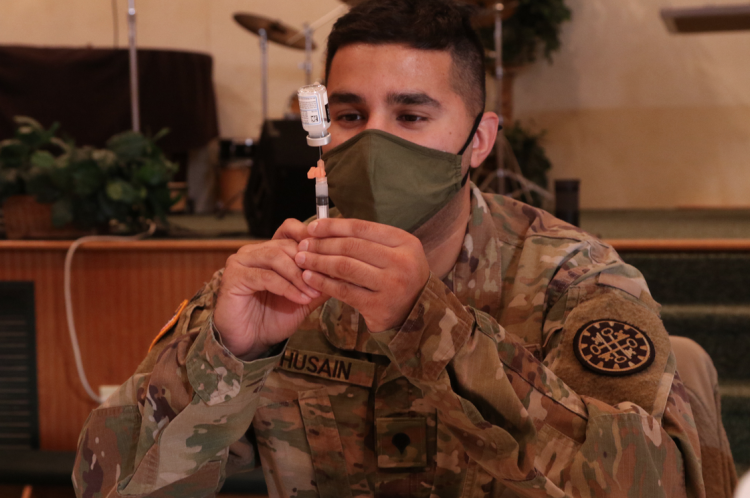 Feb. 3, 2021  PLYMOUTH EAGLE.
Plymouth Michigan News
More than 300 additional Michigan National Guard soldiers are being assigned across the state to expand COVID vaccination and testing efforts, according to state officials.
The deployment is in response to the detection of the variant B.1.1.7. COVID strain found in a Wayne County man and among several people associated with the University of Michigan in Ann Arbor.
The deployment of the additional guard members began last week is an effort to assist the Michigan Department of Health and Human Services (MDHHS) and local health departments.
The guard members will augment local health departments, as requested, in administering the vaccination in clinics in their respective areas, officials said.
B.1.1.7 spreads more easily between people, but there has been no indication that it affects the clinical outcomes or disease severity compared to the SARS-CoV-2 virus that has been circulating across the United States for months, explained Dr. Joneigh Khaldun, chief medical executive and chief deputy for health at MDHHS.
"The new variant is present in Michigan and we are at risk of seeing more spread of COVID-19.  Everyone should do their part to end this pandemic. Get tested if you have been exposed, have symptoms, or have recently traveled to an area with a new variant spreading," said Khaldun.
"Make sure you are following all quarantine and isolation guidance. And do your part to prevent the spread of this virus by continuing to wear your mask, avoid gatherings, socially distance, and washing your hands."
U.S. Army Maj. Gen. Paul Rogers, adjutant general and director of the Michigan Department of Military and Veterans Affairs had previously approved the assignment of men and women of the National Guard last year in an effort to "help reduce the risk and safeguard Michiganders during this pandemic."
"As 2021 begins, we are doubling down on our commitment to the safety of Michigan communities by doing everything we can to make the vaccine as accessible as possible," said Rogers.
"We are here to help the state where asked," said Rogers. "From the city of Detroit to the far reaches of the Upper Peninsula, the Michigan National Guard will continue to assist our communities in this very important mission."
Michigan has started Phase 1B of the vaccination plan, which includes those over age 65. As more of the population is eligible for vaccines, the need for additional support administering the doses has increased. As of Jan. 23, the Michigan National Guard had administered almost 32,000 vaccines to state residents, officials said.
Residents can find COVID-19 test sites in their communities at Michigan.gov/CoronavirusTest.
Symptoms may include: fever or chills, cough, shortness of breath or difficulty breathing, fatigue, muscle or body aches, headaches, loss of taste, sore throat, congestion or runny nose, nausea or vomiting and diarrhea.
Because the variant spreads more easily, it could increase the number of people who need to be hospitalized or who lose their lives to COVID-19 should the new variant begin circulating widely in Michigan. It is possible that there are more B.1.1.7 cases in Michigan that have not been identified, Khaldun said.
At this time, information is limited and changing rapidly, she added. The latest information is available at:
Plymouth Voice.
Gallery Photo:  Capt. Joe Legros –  Michigan National Guard