Ice Festival set to return to Plymouth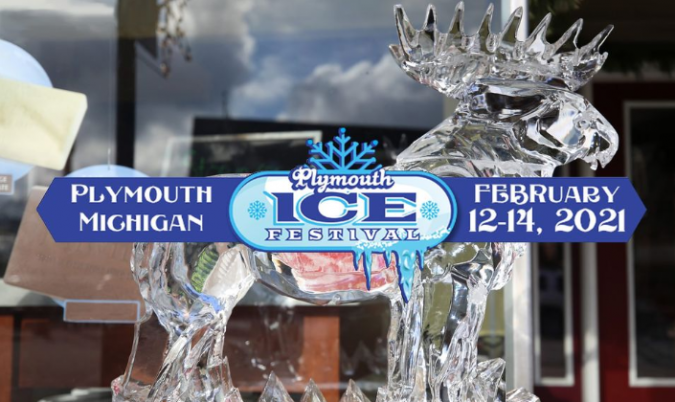 Jan. 24, 2021  PLYMOUTH EAGLE.
Plymouth Michigan News
Better late than never is the attitude in the City of Plymouth as plans for a scaled-down ice festival set for Feb. 12 through 14 were presented to the city commission for approval last week.
James Gietzen, owner of JAG Entertainment, which produces the annual event, said the event would be markedly different this year, but still an attraction sure to draw crowds into the city. Gietzen said the 39th annual event would include smaller ice sculptures set in front of local businesses and through-out downtown while the larger ice carvings usually installed in Kellogg Park would be absent this year. Gietzen said the changes were necessary due to the Center for Disease Control (CDC) guidelines for wearing masks and maintaining social distancing.
Gietzen said plans include installation of about 60 smaller-scale sculptures which should help attract crowds to the community and, hopefully, local businesses.
Michigan First Credit Union is sponsoring 24 smaller ice carvings this year. Many of the usual events, like the dueling chain saws and the college competitions will likely be cancelled this year, although Gietzen said the Downtown Development Authority (DDA) officials are organizing events for the weekend including having visitors fill a bingo-like card with stickers from various businesses as they walk through downtown. The object will be to fill the card with stickers from businesses on at least three streets to get a bingo and win a gift card.
DDA Director Tony Bruscado said the game is designed to get people into downtown stores to see what local merchants have to offer and hopefully, make a purchase while filling the card to win a $25 gift card. The gift cards are being donated by local businesses participating in the game.
Gietzen said he is well aware of the struggling local businesses in the community and is hoping the ice festival will be able to help lure shoppers into local stores and generate business for the local merchants. He said he expects the event will attract a great many families who are looking for a safe outing during the ongoing pandemic. People, he said, have been isolated and at home for months, and the ice festival, while practicing safety measures, will be an attractive destination during the Valentine's Day weekend.
"Visitors to downtown will be able to walk around and appreciate the ice sculptures, even if they're not quite as big as they're used to in normal years," Gietzen said.
Last year, Mother Nature drenched the ice festival with week-end rain and this year, the event is faced with the pandemic. That hasn't totally discouraged the several of the usual sponsors of the event, like Michigan First Credit Union, however, Gietzen said.
"We're just glad to be able to do something, rather than cancel the event," Gietzen said.
Plymouth Voice.