Greatest respects to last living World War II Medal of Honor recipient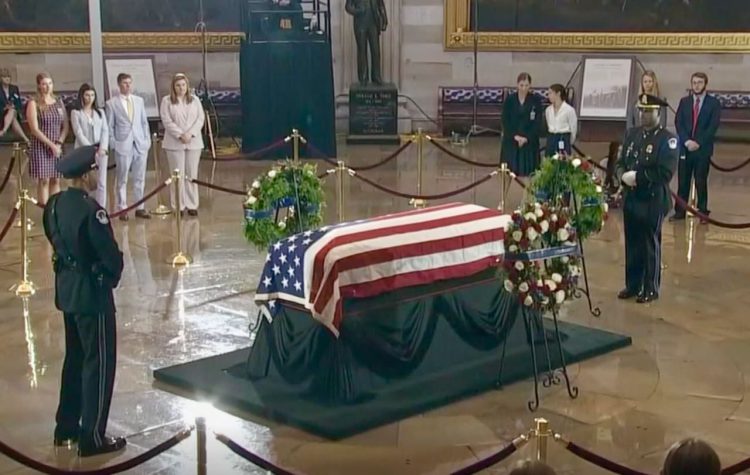 Jul. 16, 2022  PLYMOUTH VOICE.
Plymouth Michigan News
Semper Fi
The passing of Hershel W "Woody" Williams at age 98 marks not just a death from a hero, but the end of a line of heroes of the Greatest Generation.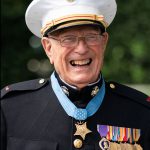 Retired U.S. Marine Corps Chief Warrant Officer Hershel W "Woody" Williams died June 29 at the Huntington Veterans Affairs Medical Center, Huntington, West Virginia. He was the last survivor among the 472 servicemen who were awarded the Medal of Honor for extraordinary bravery in World War II. The Medal of Honor is the nation's highest award for valor. Williams received the medal for his heroic actions in the Battle of Iwo Jima.
Thousands of Marines and Navy corpsmen were laying their lives on the line to capture a very small piece of ground we now know as the Japanese island Iwo Jima.
During the 36-day battle, Cpl. Williams volunteered to assist tanks that were attempting to open a lane for the infantry. Covered by only four riflemen, he went forward alone to attempt to eliminate the devastating machine gun fire. Using demolition charges and flamethrowers, he wiped out one position after another. He fought desperately for four hours under terrific enemy small arms fire, returning to friendly lines for more ammunition and demolition charges.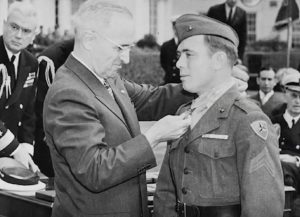 Later, when asked where bravery comes from, Williams said,
"I feel that your upbringing had some influence on our bravery because we were taught in the Depressions years, if you didn't have it, you had to make it…and the only way you could make it was to work at it.  Our upbringing gave us the confidence that developed into bravery."
Cpl. Williams, a marine reservist, received the Medal of Honor for his actions on Oct. 5, 1945 from President Harry Truman.
Williams was discharged in 1945, but stayed in the Marine Corps Reserve and served for years through his foundation, The Woody Williams Foundation, which honors families who have lost a loved one in service to their country.
On Mar. 7, 2020 the USS Hershel Woody Williams, the expeditionary sea base was commissioned bearing his name.
Plymouth Voice.