Fall Color Report – Pure Michigan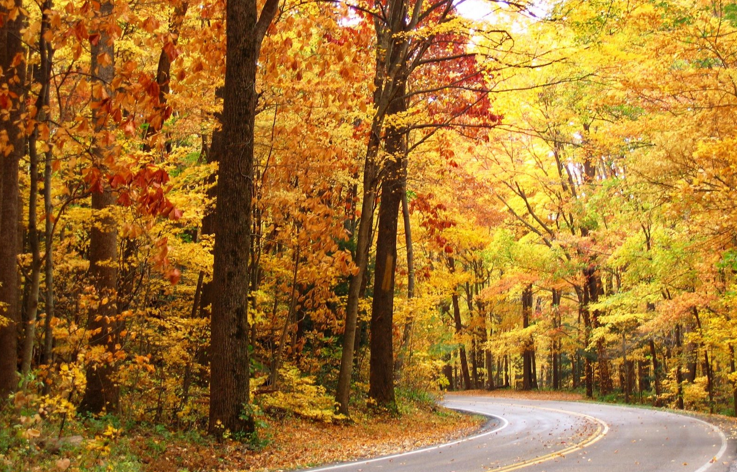 Sep. 21, 2016  PLYMOUTH VOICE.
Plymouth Michigan News
WATCH VIDEO
There's nothing like Michigan in autumn; fiery reds, oranges and gold. Journey over hundreds of miles of trails and pathways for hiking and biking.  Plan a hot air balloon excursion for a bird's-eye view of nature's splendid color palette. In Michigan, there are so many ways to amble into the autumn sunset.
Meteorologists across the state are reporting peak conditions to be a little later this year. Currently, Michigan's Upper Peninsula is showing mostly summer foliage with only slight fall color for the coming weekend. Peak conditions are reported to be two to three weeks away for most of the region, including Mackinac Island.  As color progresses across the region, you'll want to take in some of the season's best sightseeing along Pictured Rocks Lakeshore.
If you're traveling towards the Upper Peninsula's most northern tip, some of the best color can typically be seen along US-41 from Houghton to Calumet, which is expected to have excellent color in the coming weeks.
Although there's only a touch of color starting to burst on the scene across Marquette County, there are plenty of scenic drives to explore around Mount Marquette, Sugarloaf Mountain or Thomas Rock, as well as along County Road 510. Locals also recommend paddling at Van Riper State Park and afternoon bike rides along the County's extensive trails system.  Take time to enjoy the area's buzzing microbrew scene, recreational offerings and unique events, all surrounded by rugged landscapes and forests that stretch as far as the eye can see. Peak conditions are estimated to reach Marquette and surrounding communities in one to two more weeks.
For the entire region's most up-to-date fall color forecast, be sure to visit the Upper Peninsula's fall color reports.
Manistee and Michigan's Northwest lakeshore towns are still experiencing summer, where area beaches are beautiful and the fishing is hot! Now is a great time of year to explore the region with self-guided tours. Peal conditions are about three to four weeks away.
A stunning Northwest Michigan drive this time of year is on the Old Mission Peninsula. Nearly 20 miles long, the picturesque drive showcases a beautiful patchwork of orchards, vineyards, forests and villages. Visitors can experience wineries and roadside fruit stands.  Peak conditions are still several weeks away.
Clare County is reporting mostly summer foliage. Spot color can be seen along driving north on Old 27 to Harrison and west on M-61 to M-66 south to M-115 east to Farwell and Clare. The area will not see peak for another three to four weeks.
M-18 between M-55 (Houghton Lake) in Roscommon County is reporting early-turning maples showing a tinge of red, which should provide a nice background scenery for the Michigan Firemen's Memorial weekend (September 15-18). This weekend, visitors can enjoy hiking along the Lake Marl trail or geocaching throughout Roscommon County. The area experienced good rainfall over the summer and trees and thick and luxurious—which will prove a sure enticement for fall landscape photographers. Peak color should reach the area in another three to four weeks.
Holland and nearby communities are still weeks away from peak color.  Visitors to the area this coming weekend can enjoy stunning views of Lakes Michigan and Macatawa from the top of the Mt. Pisgah dune. Scenic drives through the countryside will yield a great harvest of fall products at the Holland Farmer's Market.
Learn about the culture, language, history, challenges and struggles of Michigan's first people as you celebrate Michigan Indian Day at the Ziibwing Center of Anishinabe Culture & Lifeways in Mt. Pleasant on September 23. Explore the unique traditions and distinct styles of housing, dress and food of these early indigenous inhabitants of this mid-Michigan community.
Bay, Saginaw and Midland counties as well as most of Michigan's Lower Peninsula are reporting mostly summer-like foliage, as peak conditions are three to four weeks away. If you're traveling in the area this weekend, you'll find color among the fresh produce, jams, jellies and selection of supplies and Native art crafted by local artisans at the Native American Farmers Market in Midland.
Kalamazoo and surrounding communities are reporting strokes of color among area Maple and Oak. Although peak color typically happens the last two weeks of October, there's plenty of fun to be had at local breweries, wineries, farm markets and u-pick farms even before the magnificent burst of color overtakes the area.
© Michigan Economic Development Corporation
Plymouth Voice.