Enjoy a Pure Michigan road trip in the Upper Peninsula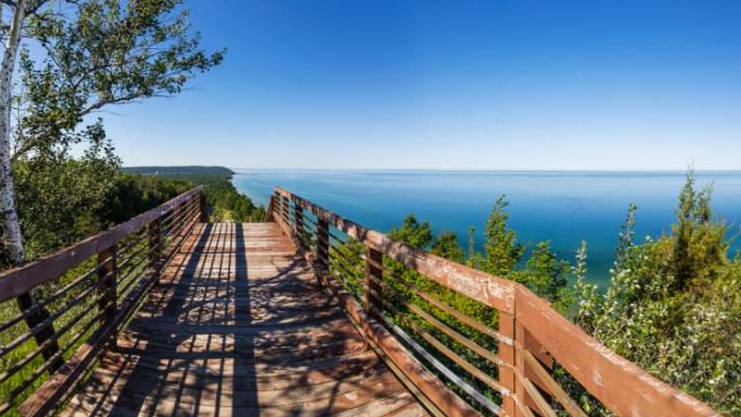 Aug. 10, 2018  PLYMOUTH VOICE.
Plymouth Michigan News
WATCH VIDEO
Click links for information.
Hike along Lake Superior-washed cliffs and through towering white pine forests, paddle the length of a pristine harbor and keep your eyes open for the resident moose population. Isle Royale National Park offers a spectacular getaway, whether your family prefers rustic backcountry camping or a comfortable cottage stay at Rock Harbor Lodge.Isle Royale is just one of Michigan's remarkable national landmarks, most of which call the Upper Peninsula home. Head to Pictured Rocks National Lakeshore for Instagram-worthy hiking trails and boat cruises past orange-and-red sandstone cliff faces and arches. Or learn about the Upper Peninsula's rich copper mining heritage at the Keweenaw National Historical Park. Hiking trails, historical museums and mine visits tell the story of mining on the Keweenaw Peninsula, from 7,000 year-old Native American copper operations to the great mineral boom of the 1800s.
There's nothing better than a Pure Michigan road trip. Travel the routes that form lasting family memories. From hands-on museums to sugar-sand beaches, from summertime festivals to scenic hiking trails, and from amusement parks to urban escapes.
AUGUST EVENTS
51st Annual Buckley Old Engine Show
Now thru August 16-19, 2018
Buckley
Lunchtime Live!
Now thru September 28, 2018
Kalamazoo
Summer Music Fest
August 9-11& 16-18, 2018
Frankenmuth
Renegade Theatre Festival
August 9-18, 2018
Lansing
Back to the Bricks Cruise Weekend – Flint
August 14-18, 2018
Flint
Ann Arbor Blues Festival
August 17-18, 2018
Ann Arbor
Woodward Dream Cruise
August 18, 2018
Royal Oak
Great Lakes Surf Festival
August 18, 2018
Muskegon
Leelanau Peninsula Wine on the Water Festival
August 18, 2018
Suttons Bay
Suds on the Shore Craft Beer + Wine Festival
August 18, 2018
Ludington
Michigan Renaissance Festival
August 18- September 30, 2018
Holly
Balloons Over Bellaire
August 24-25, 2018
Bellaire
Mackinac Island Fudge Festival
August 24-26, 2018
Mackinac Island
Porcupine Mountains Music Festival
August 24-26, 2018
Ontonagon
Thunder Over Michigan Air Show
August 25-26, 2018
Ypsilanti
Cruisin' Hines
August 26, 2018
Dearborn
Marquette Blues Fest
August 31-September 2, 2018
Marquette
Plymouth Voice.
© Michigan Economic Development Corporation