Death trains in Plymouth – a new concern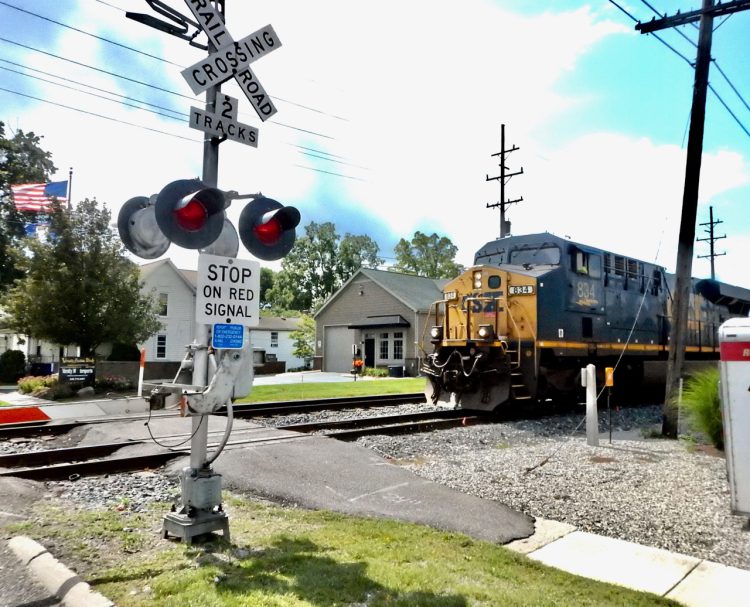 Feb. 20, 2023  PLYMOUTH VOICE.
Plymouth Michigan News
OPINION
Nowadays Plymouth area residents and city leaders have even more reasons to be concerned about the railroads in the aftermath of a February 20, 2023 Ohio train derailment catastrophe.
It's more than stalled trains that often block tracks for hours at the city's four main railroad crossings, or fielding and responding to never-ending countless complaints from frustrated motorists, hearing fruitless rhetoric from hamstrung windbag politicians, or listening to CSX Transportation administrators back-peddle the problems.
It's now about extensively long trains – overloaded with deadly chemicals and single person crews.
Long trains of the CSXT railway company carrying hazardous-materials ply the tracks of Plymouth and the surrounding area every week.  Some have been labeled death trains because of the dangerous contents they haul in their tank cars.
Last week, 240 miles south of Plymouth, 38 cars of an extremely long 150-car Norfolk Southern Corporation train carrying hazardous chemicals derailed in the small town of East Palestine, Ohio.
East Palestine is a village of 4,700 residents about 50 miles northwest of Pittsburgh. Of the 38 cars that derailed on the Norfolk Southern train that day, 11 were hazardous-materials cars.  The East Palestine derailment likely may have contaminated the air, surface soils, creek beds and surface water surrounding the crash site and sickened residents with five toxic chemicals.  The EPA confirmed that chemicals from the derailment leached into the soil and water.
Railroad tracks also intersect the small town of Plymouth, population 9,300 – slicing it every direction. The city of two-square-miles is a major railroad intersection, referred to as the Plymouth Diamond. The CSXT tracks run north, south east and west.  According to the Wayne County Drain Commission, there are approximately 9,000 homeowners who live within the watershed of Tonquish Creek – a tributary to the Rouge River that runs through Plymouth Township, the City of Plymouth and Canton Township.
The people of Plymouth could face the same risks as those who live in East Palestine should they suffer a toxic train derailment, and face possibly an even greater risks of catastrophe due to the long 100-plus-car trains that travel the unique layout of curved track that snakes through town.
The National Transportation Safety Board claims the majority of train derailments are due to track failure. Tuesday, The National Transportation Safety Board said they thought the Norfolk Southern train derailed because of a "hot box" – a wheel bearing overheat failure. It appears the East Palestine derailment may have been caused by both faulty brakes and excessive weight and length.
In 2017, CSXT executives introduced a new operating model called Precision Scheduling Railroading (PSR), to maximize assets and increase profitability. The result was fewer but much longer trains, reduced smaller crews (The Federal Railroad Administration (FRA) permits one-person train crews) and frequently blocked street crossings, often hampering emergency vehicles. Norfolk Southern implemented PSR in 2019. Last year the FRA proposed to reinstate a two-person crew rule. Currently union contracts, not any kind of federal regulation, require two-person crews.
Norfolk Southern railway employees reportedly said there were concerns among those working on the train over what they believed was the train's excessive length and weight — 151 cars, 9,300 feet long, 18,000 tons. Railway employees told CBS News, "We shouldn't be running trains that are 150 car lengths long,"
One of the Norfolk Southern employees interviewed said, "There should be some limitations to the weight and the length of the trains. In this case, had the train not been 18,000 tons, it's very likely the effects of the derailment would have been mitigated."
Hazardous chemicals like Vinyl Chloride, Ethylene glycol monobutyl ether, Ethylhexyl acylate, Isobutylene, and Butyl acrylate involved in the Ohio train crash carried in the 11 hazardous-materials cars were classified as Extremely Flammable, Highly Flammable, Combustible, and Flammable. Vinyl chloride is a toxic flammable gas, which were among combustible liquids that authorities feared could set off a major explosion.
Later, on Monday, Feb. 6, crews from Norfolk Southern conducted a "controlled burn" of the hazardous chemicals that lasted days causing a dramatic large plume of heavy black smoke that could be seen for miles. The vinyl chloride loaded in five cars is a colorless gas that burns easily. It is a carcinogen that becomes a gas at room temperature. It is commonly used to make polyvinyl chloride or PVC, that is a kind of plastic used for pipes, wire and cable coatings and other car parts. Breathing or drinking vinyl chloride can cause a number of health risks including dizziness and headaches. People who breathe the chemical over many years reportedly may also experience liver damage. Very high levels of vinyl chloride are deadly.
Public outrage has grown over the Ohio derailment.
Outraged East Palestine residents who placed the blame on Norfolk Southern feared for their health after an evacuation was ordered because of the fumes. There are now serious concerns about pollution and the more than 1,500 residents who were evacuated and returned face uncertainty and unknown consequences, especially if they stay.
The Ohio Department of Natural Resources estimates 3,500 fish were killed across the 7.5 miles of streams as a result of the train derailment. Families living in area are demanding some type of reissuance that their well water is safe to drink.  Residents who told CBS News crews the air smells like "nail polish" say they are suffering from "headaches, rashes, respiratory problems and painful coughing."
The Federal Emergency Management Agency (FEMA) announced Saturday they will deploy federal assistance to Ohio, now more than two weeks after the toxic derailment. Previously, Ohio Gov. Mike DeWine said that East Palestine did not qualify for FEMA assistance. The Biden administration has taken heavy criticism from residents for not approving a FEMA disaster declaration, officials initially claiming the derailment does not meet the legal requirements for such a declaration.
The East Palestine derailment is a wake up call for the Plymouth community and its leaders to get behind railroad workers in a lightly regulated railroad industry and heed their calls for more regulation and guarantees of staffing support, and demand smaller safer trains.
Unfortunately, there's a high likelihood this catastrophe will happen again, somewhere, sometime.  Let's pray it's not in Plymouth.
Plymouth Voice.