City wins financial reporting award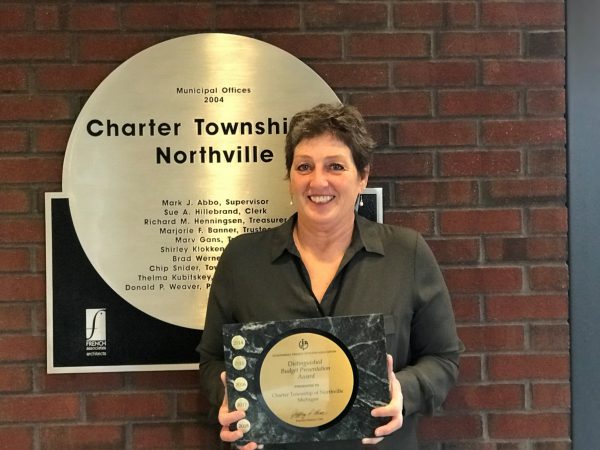 Northville Township Treasurer Marjorie Banner proudly displays the most recent financial reporting award presented to the township.
May. 1, 2018  PLYMOUTH EAGLE.
Plymouth Michigan News
Northville Township Treasurer Marjorie Banner was recently honored with the Government Finance Officers Association (GFOA) Distinguished Budget Presentation Award for the fifth consecutive year.
Northville Township received the award for satisfying nationally recognized guidelines for effective budget presentation which assess how well the township budget serves as a policy document, a financial plan, an operations guide, and a communications device. Budget documents must be rated "proficient" in all four categories-and in the 14 mandatory criteria within those categories-to receive the award.
The Northville Township focus during the 2018 budget process was centered on vision with a theme of Open Government Initiatives.
The board of trustees' vision to engage low-cost, innovative approaches to connect township government with citizens resulted in the launch of a first citizen-oriented mobile application designed to provide easy access to township government including high demand interactive online services. The 2018 budget builds on the open government initiative platform, while striking a balance between aligning financial resources with long-term service level objectives, according to a prepared statement from the township.
The award represents a significant achievement by Northville Township and reflects the commitment of the board of trustees and staff to meeting the highest principles in governmental budgeting, the release continued. Northville Township was one of only 33 communities in Michigan to be recognized, out of nearly 1,800 cities, villages and townships.
When the award is granted to an entity, a Certificate of Recognition is also presented to the individual designated as being primarily responsible for having achieved the award. Northville Township chose Banner in recognition of her dedication and commitment to fiscal health and transparency.
Plymouth Voice.