City 'weighing options' for Kellogg fountain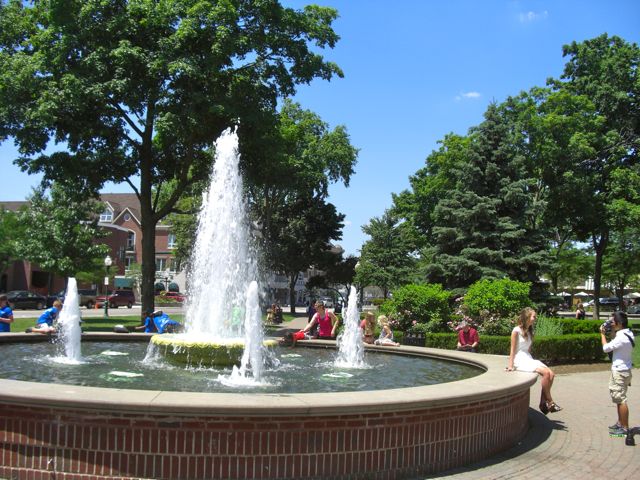 Nov. 15, 2016  PLYMOUTH EAGLE.
Plymouth Michigan News
Following comments from residents, members of the Plymouth Downtowns Development Authority and Plymouth City Commission are weighing options regarding plans for a new fountain in Kellogg Park.
Tony Bruscato, director of the development authority, issued a statement last week thanking residents who participated in the exchange regarding the plans for the park and fountain.
"The DDA and City Commission are currently looking at renovations to be a two- phase project, with Phase 1 to constitute a new fountain in Kellogg Park by summer 2017.
The DDA and City commission have listened to suggestions, and have asked the fountain designer for an alternative to the current rendering. There is sentiment from the DDA and City Commission to keep the fountain in its current location, and reducing the amount of hardscape around the fountain," Bruscato said in the prepared statement.
Plans had included moving the fountain about 20 feet and included a fountain with an LED lighting display with an 18-inch wall along the Main Street side of the park. Those options were criticized by residents attending the public hearings and in email comments to the development authority. Plans also included the closing of Union Street with large planters and including the area in front of the Wilcox house as part of the park.
The renderings will be discussed at a second workshop on the future design of a new fountain. When those renderings are available, the workshop meeting will be announced, Bruscato said.
Phase 2 will be considerations for upgrades to the remainder of the park at a later date, with input from the community. That will include discussions on elimination of trees, walkways and the sitting wall along Main Street At this time, those options are on hold until further discussion, which is expected to begin some-time next year. Again, those conversations will be announced before they begin, Bruscato said.
A look at the progression of the Kellogg Park/fountain project can be found on the Plymouth Downtown Development Authority website at www.downtownplymouth.org [http://www.downtownplymouth.org] The site includes the Oct. 10 presentation at the Plymouth Cultural Center, which includes updated renderings of the proposed project.
Comments can be emailed to the Plymouth Downtown Development Authority at www.dda@ci.plymouth.mi.us [http://www.dda@ci.plymouth.mi.us.]
Plymouth Voice.