Canton will host Salute to Soldiers next week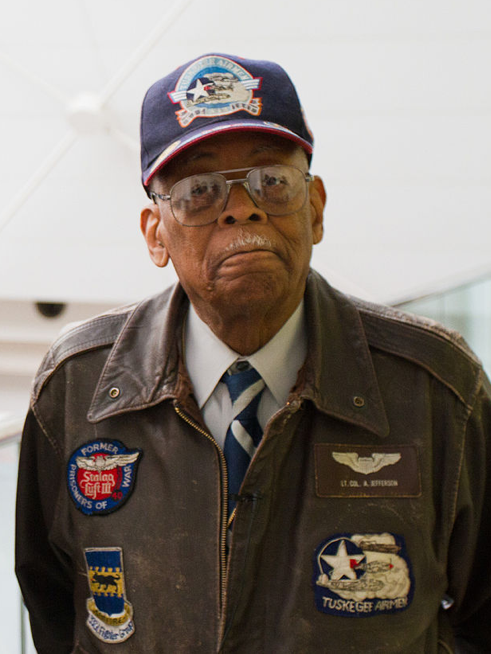 USAF Lt Col. Alexander Jefferson at the Imperial War Museum
Nov. 6, 2014  PLYMOUTH EAGLE.
Plymouth Michigan News
"This year, the keynote speaker is Alexander Jefferson,
 Lt. Col (Ret.) of the Tuskegee Airmen, Detroit Chapter."
Canton will once again honor area servicemen and service-women who have served and who are currently serving in the Armed Forces in a special Salute to Service ceremony at 7 p.m. Nov. 11 at The Village Theater at Cherry Hill, located 50400 Cherry Hill Road in Canton.
This special Veterans Day celebration will recognize military personnel currently in active duty in the Army, Navy, Air Force, Marines, Coast Guard, National Guard, and Reserves, as well as veterans of the armed services for their exceptional commitment and dedication.
The free event, presented by Canton Township, is open to the public and doors to the theater will open at 6 p.m. with an exhibition of military memorabilia and a cookie and punch preshow reception.
This year, the keynote speaker is Alexander Jefferson, Lt. Col (Ret.) of the Tuskegee Airmen, Detroit Chapter. Jefferson served as a P-51 fighter pilot with the Red Tail, 332nd Fighter Group, 301st Fighter Squadron in Ramitelli, Italy. In the course of providing protection from enemy aircraft, he flew 18 long-range escort missions for B-17 and B-24 bombers. On Aug 12, 1944, three days prior to the invasion of Southern France, he was shot down by ground fire while strafing radar stations on the coast. Captured by German troops and interned for nine months as a Prisoner of War, he spent five months in Stalag Luft III, 80 miles east of Berlin on the Odor River.
Jefferson was liberated by American forces on 29th of April 1945 and was discharged from active duty in 1947. He eventually retired from the reserves in 1969 with the rank of Lieutenant Colonel. Following the war, he became an elementary school science teacher in the city of Detroit. He retired as an assistant principal in 1979. Jefferson is one of the founders of the Detroit Chapter of the Tuskegee Airmen and is a member of the Tuskegee Airmen Speakers Bureau.
The program will feature musical tributes sung by the Workman Elementary School Choir, under the direction of Keri L. Mueller.
In addition to the formal presentation, items for servicemen and women will be collected by the Michigan Military Moms, including individual size or travel size: beef jerky/slim jims; Q-tips; disposable razors; dark socks; foot and body powder; hand and foot warmers; hot chocolate; Michigan sports team Memorabilia; puzzle books such as crossword puzzles and Sodouku books and decks of cards/Uno.
For more information on the Salute to Service ceremony, call (734) 394-5300 or visit http://www.cantonvillagetheater.org