Bosch expansion may bring 200 jobs to area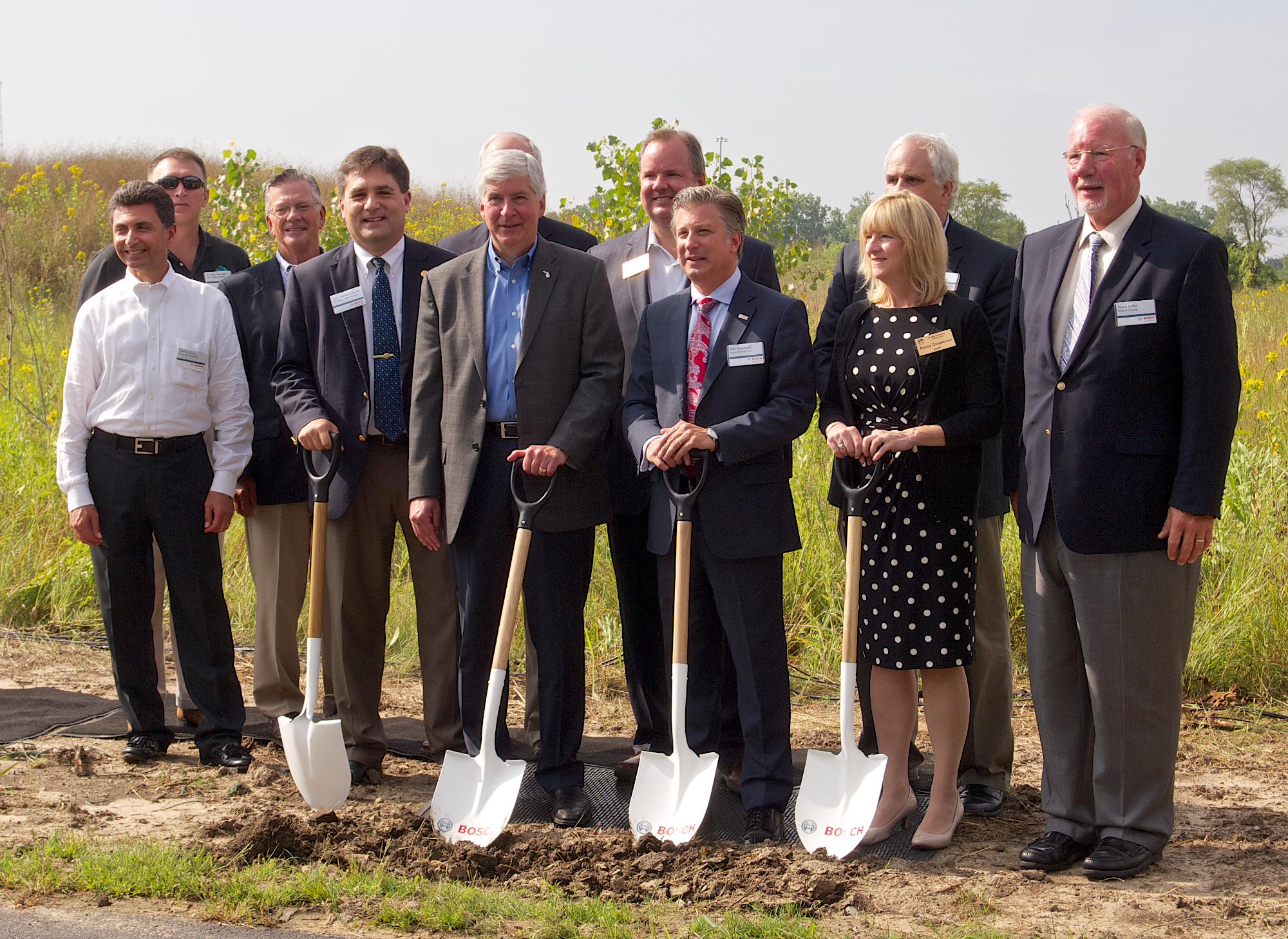 Gov. Rick Snyder and officials from Wayne County and Plymouth Township were on hand for the groundbreaking of the Bosch Corp. expansion last week.
Sept. 5, 2014  PLYMOUTH EAGLE.
Plymouth Michigan News
By: Don Howard
Staff Writer
Executives from Robert Bosch Corp. Plymouth Technical Center announced a 220,500 square-foot expansion with a ground-breaking ceremony Sept. 26 that included Gov. Rick Snyder and officials from both Plymouth Township and Wayne County.
Bosch, a global manufacturer and distributor of new products and parts, with more than 280,000 employees in more than 50 countries and 20 states, maintains its U.S. headquarters in Farmington Hills. In 2013 the company generated $61 billion in sales, according to the company website.
The Plymouth Tech center built in 2007 on 75 acres along the I-275 corridor off Haggerty Road currently employs 850. The facility, designed for research and development, will be doubled in size after the expansion is complete in the fall of 2015 and could add as many as 200 new jobs during the next three years, according to Bosch President Mike Mansuetti.
"Bosch's commitment to expand its presence in Michigan, while also enhancing its research and development work shows that Michigan truly is a great place to do business," Snyder said. "Michigan's business climate has improved dramatically, making our state a prime location for global companies like Bosch to expand and invest. It is also exciting that Bosch is an advocate for preparing tomorrow's workforce through hands-on tech training. Together Bosch and Michigan are tapping into our talent potential and building a bright future."
In 2012 Bosch officials requested permission to construct a temporary building on the site to add additional employees. It is not known whether the temporary buildings will be dismantled after 2015.
Bosch is unusual in that it is an extremely large, privately-owned corporation that is almost entirely (92 percent) owned by a charitable foundation. While most of the profits are invested back into the corporation to build for the future and sustain growth, nearly all of the profits distributed to shareholders are devoted to humanitarian causes, according to the website.
Bosch has also increased local philanthropic activities. Since the Bosch Community Fund was established in 2011, it has contributed $360,000 to various community organizations in the township and more than $439,000 nationwide to FIRST Robotics, including $70,000 to the FIRST Plymouth Canton Schools Team 862 Lightning Robotics.
Bosch recently established a partnership with Schoolcraft College. The college, which offers a manufacturing and technology curriculum, will work with two Bosch-sponsored FIRST Robotics teams in Schoolcraft College labs during the 2015 season. As a way to give back to the community, The Bosch Community Fund recently pledged a contribution of $10,000 to the Friends of the Rouge (FOTR), http://www.therouge.org/, to assist with projects in the Plymouth community, company representatives said.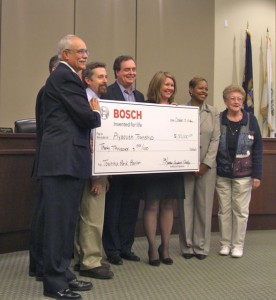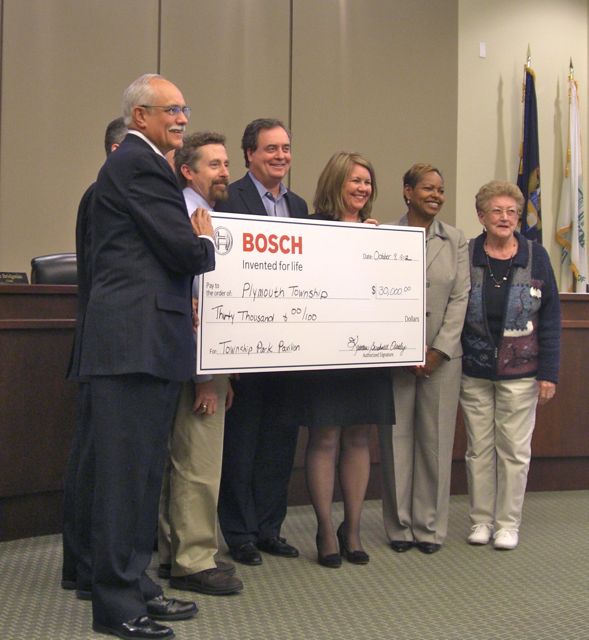 In October 2012, Bosch Corp. executives presented the Plymouth Township Trustees a check for $30,000 at a board meeting to help fund the construction of a $350,000 warming pavilion inside Township Park where construction of a new amphitheater has been begun.
State Sen. Patrick Colbeck and State Rep. Kurt Heise accompanied by officials from Plymouth Township attended the ceremonial groundbreaking including members of the planning commission, Plymouth Township Treasurer Ron Edwards, Clerk Nancy Conzelman and Trustee Chuck Curmi. Also in attendance were Dr. Mike Meissen, superintendent, Plymouth Canton Community Schools and Bryce Kelly representing Wayne County.
Plymouth Voice.