Annual Plymouth Fall Festival begins tomorrow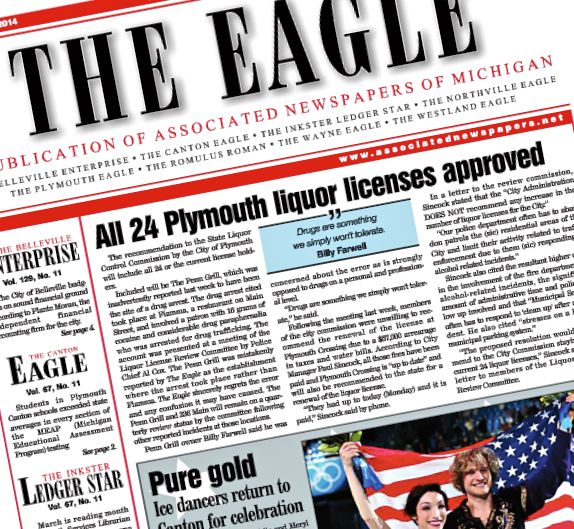 Sep. 4, 2014  PLYMOUTH EAGLE.
A complete guide to the Fall Festival events is included with this week's edition of
The Eagle
Starting Friday 75,000 people will converge on Plymouth to enjoy the 59th Annual Fall Festival. Main Street and surrounding streets will be lined with booths from local clubs, community groups, school teams, churches, garden clubs, veterans and businesses. Kellogg Park will feature entertainment on stage and in the park.
Street closings:
MAIN STREET – From Fralick to Wing Street.
PENNIMAN – From Harvey to Union Street
ANN ARBOR TRAIL – From Forest Avenue to Union Street
UNION STREET – From Roe to Ann Arbor Trail
FOREST AVE. WILL BE OPEN – From Ann Arbor Trail to Wing, but will have limited access via Harvey Street.
Free shuttle service will be provided by Praise Baptist Church they go from Forest Street and the church to whenever there are people who want to go. The church, located at 45000 North Territorial Road, will be open so that there is no threat of standing in the hot sun or rain waiting for a shuttle. The shuttles will operate one half hour before and after festival hours all three days.
NEWS YOU CAN USE, NEWS YOU CAN TRUST
GET THE ATTENTION AND THE RESULTS YOU WANT WITH LOCAL ADVERTISING
THE EAGLE
THE EAGLE ……A PUBLICATION OF ASSOCIATED NEWSPAPERS OF MICHIGAN
The Belleville Enterprise – The Canton Eagle – The Inkster Star – The Northville Eagle – The Plymouth Eagle – The Romulus Roman – The Wayne Eagle – The Westland Eagle
To advertise in The Eagle Call 734-467-1900
CALL FOR HOME DELIVERY